Stop Loan Sharks Initiative
Wendy Loades - LIAISE Officer - Lead in Awareness, Intelligence, Support and Education Illegal Money Lending Team - England. (Trading Standards)
Noise Action Plans
Playground Strategy 2009 - 14
Troika plans for Park and Ride Site and Grade Separated Junction at Riverside
Gypsy and Traveller Site Consultation / Bournemouth Core Strategy / National Planning Policy Framework
Mike Holmes - Director Planning and Transport, Bournemouth Borough Council
Proposed date - 25th October 2012
A
icon to view the agenda as printed by
Premier 32
.

Apologies
Chairman announced apologies before the meeting from Cllr Ron Whittaker and Cllr John Adams who were on holiday. Councillor Anne Rey was unwell.
Item 1 - Stop Loan Sharks Initiative
• Wendy Loades - LIAISE Officer - Lead in Awareness, Intelligence, Support and Education Illegal Money Lending Team - England. (Trading Standards)
Wendy Loades gave a hard-hitting talk on Loan Sharks, with the aid of a Power Point presentation as reproduced below:-
1. TRADING STANDARDS ILLEGAL MONEY LENDING TEAM
Wendy Loades
Liaise Officer (Lead in Awareness, Intel, Support and Education)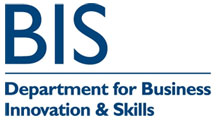 2. History of the Illegal Money Lending Team
Birmingham piloted the project back in 2004 along with Glasgow
In November 2007 Birmingham expanded their area to include:
Trading Standards North West
Central Trading Standards Authorities
East of England Trading Standards
Trading Standards South East
Teams set up in 2008
London
Wales
South West
Nottingham
April 2011 England becomes one Team, Scotland and Wales have their own teams
3. What is the Purpose of the National IMLT?
To take effective enforcement action against illegal money lenders (loan sharks) in England
To provide financial and other support to victims to remove their reliance on illegal lenders through strong engagement with partners.
4. National Loan Shark Project - The Team
Project Manager - Tony Quigley
2 Enforcement Managers - East and West, supports 36 Investigators
1 Liaise Manager, supports 19 Liaise Officers
2 Financial Investigators
2 Embedded Police Officers
Regional Intelligence Officers
1 office Manager supports 2 Admin staff
1 Communications Officer
5. Area covered in the South West
Wendy Loades
Bath Bournemouth Bristol Devon Dorset Poole Swindon Wiltshire
Ailsa Guard
Cornwall Gloucester North Somerset Plymouth Somerset South Gloucester Torbay
6. The role of Liaise Officers
Raise awareness of illegal money lending
local communities
voluntary and statutory organisations
Build partnerships
appropriate sources of advice, credit, and support services
involvement in local financial inclusion initiatives
Gather information
on local communities targeted by illegal lenders
how/why victims borrow from loan sharks
Education
deliver educational packages in the community to make people aware of the damage that loan sharks can do
provide information on alternative means of credit
Victim Support...
7. SHE WALKS WITH A STICK, LOOKS LIKE A HARMLESS OLD GRANNY BUT SHE'S JOAN THE LOAN
Joan Fionda a 78 year old Loan Shark from Bristol charged 500% interest and terrified her victims. She threatened them with violence if they failed to make their payments.
Joan worked as a catalogue agent which gave her a front to set up illegal loans for people with poor credit and mortgage arrears.
Sparing her jail because of her age she was sentenced to 12 months community and supervision order.
8. EIGHT MILLION PERCENT LOAN SHARK JAILED FOR 8 MONTHS
A LOAN SHARK WHO CHARGED INTEREST RATES OF MORE THAN 8,000,000 % WAS ARRESTED IN GLOUCESTER.
Ian Jenkins had been targeting homeless people and obtaining their Post Office benefit cards and PIN numbers. He would obtain money from their accounts and then meet them on street corners. He would then give them pocket money to support themselves. He would keep two thirds of their cash.
Several note books were found at Jenkin's home which showed that there were 55 people dependent on him for money. Jenkins charged different people different rates.
9. The Legal Definition
A loan shark is someone who lends money without the licence required by the Consumer Credit Act 1974.
These licences are issued by the Office of Fair Trading to individuals or companies whom they believe are "fit and proper".

10. Typical characteristics
No credit agreements given
No receipts for payment or payment books
Most payments are cash and weekly
Violence and/or intimidation - threats
May suggest payments in kind to themselves or others
Often work alone or have a tight group of collectors
11. ...Typical characteristics
Can take illegal securities e.g. cash card
Never advertise - incentives for introducing a friend
Communicate mainly in person or via text
Repayments of at least twice the amount borrowed
May encourage the use of legal credit options to pay towards the debt e.g. credit union or crisis loan
12. Who is affected?
Estimated 310,000 UK households use loan sharks
6% of households in most deprived areas
UK repays £120 million
Victims were most likely female;
aged 30-40
on welfare benefits
living in social housing
Profile now changing.........
Self employed trend emerging
Small Businesses
Senior Citizens
People who have lost their jobs
13.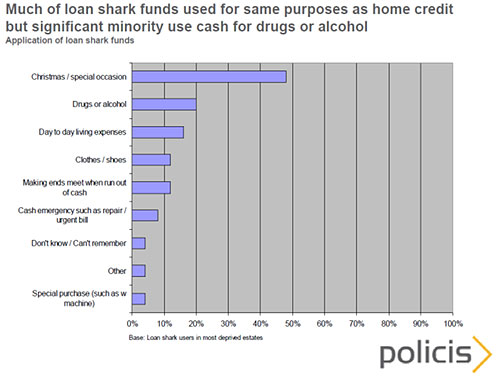 14. The statistics
65% female
28% with a disability
75% on benefits
82% without home contents insurance
87% had bank account
75% in rented accommodation;
12% home owners (emerging trend)
56% in social housing; 19% private rented
63% unemployed, 18% self employed
15. The statistics
65% found the Loan Shark through a friend
41% had borrowed before
44% knew Loan Shark before borrowing
49% tried to borrow elsewhere first (60% refused credit)
66% had other debts (average £7k+)
30% Rent/Mortgage arrears, 20% Council tax arrears
43% considered the Loan Shark a friend!!
92% would not use a Loanshark again
16. Policis statistics - victims
9% of Social Fund users use Illegal Money Lenders
7/10 people who were unwilling to report illegal money lenders cited "too dangerous" as the main reason for their reluctance
54% of residents of deprived estates are aware of illegal money lending in their own community - and ¾ of these believe it is extremely damaging to that community
63% of victims agree that payments to the lender have to be prioritised before other spending
2/3 victims face difficulties affording essentials including food, fuel and rent
¼ face debt/stress related physical or mental health problems.
17. Wider impact - Mental Health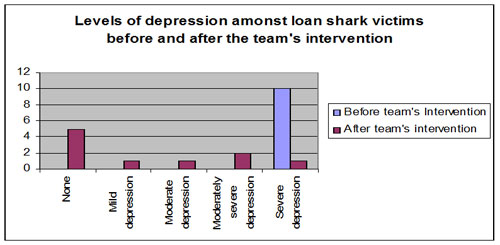 18. Wider impact - rent arrears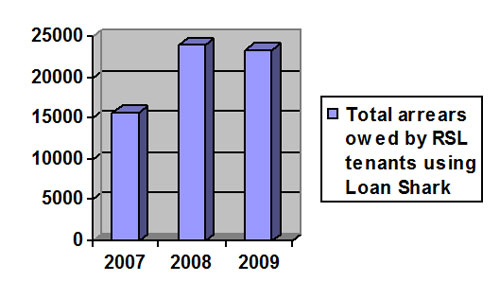 2007 - no loan shark
2008 - loan shark operating then arrested
2009 - arrears stop increasing and start to decrease after removal of loan
19. Wider impact - tenancies in jeopardy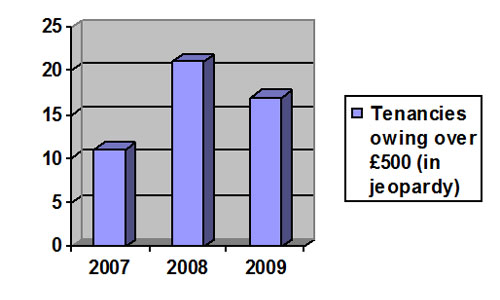 2007 - no loan shark
2008 - loan shark operating then arrested
2009 - tenancies in jeopardy stop increasing and start to decrease after removal of loan shark
20. Addressing the issues
Using the full weight of the legislation available:
Consumer Credit Act 1974.
Proceeds of Crime Act 2002.
Theft Act 1968 - Demanding money with menaces / Blackmail.
Injunctions and anti-social behaviour Orders.
21. Richard Blair - Gosport
8 month suspended sentence
200 hours community service
£8,000 costs
£35,00... confiscated
33% interest per week + £30 a day on missed payment
Also prosecuted for drugs offences
22. Gosport - giving it back to community
Using money from Blair to hold family, fun and finance event in community he operated
60 new credit union accounts (with £20 of Blairs money)
18 Halifax savings account (with £20 of Blairs money)
Advice on debt, energy, insurance, work available on the day
23. Our offer to Partners
Presentations to staff to raise awareness
Articles for newsletters and publicity tools - shark suit, banner etc
Bespoke training for staff (lasting 2-3 hours) to provide in depth discussion about intelligence, victim support and crime prevention (see Appendix one)
Tagline wording for rent arrears statements
One to one support for any tenant who is the victim of an illegal lender
Materials - questionnaires for door knocking exercise, a pop up banner for temporary display in a reception area, pdfs of posters and postcards for you to print
Certificates for staff and evidence of training and partnership working for inspections
A resource in terms of staffing for awareness raising events for tenants
Housing best practise guide jointly developed with HA
24. "Donna"
Manchester - 1200 customers
£500 initial loan for wedding dress
Collecting over a 2 year period
Agreement signed - no paperwork given
Paid back over £2,000
Suffered from violence and intimidation
Rehoused outside of area
Went back to training
Family received wider support
25. Paul Nicholson
Guilty of 20 offences
Enforcement using knuckle duster/baseball bat
125% standard interest with charges for late payment
Moved from property worth £175K to £1Million
Between June 2007-March 2008 collected £648,000
Sentencing - Paul given life (minimum 7 years) & Tracey given 4 years
Sexually assaulted his victims and one customer committed suicide
26. "Jane"
Struggling to pay household bills
Young family
Introduced by friend
Borrowed £800
Lost job - couldn't pay
Raped
Following intervention
Received specialist counselling/esteem building
Resettled in new area, has started and maintained employment via referrals made
27. Michael Morris
Ex British Commonwealth boxing champion (Mike Armstrong)
Business premises in Salford
Advertised in local free papers as MAM finance
Plead guilty to 3 Blackmail, 7 Criminal damage, 1 Affray and one Illegal lending
Given 4 year sentence
900 victims across Greater Manchester (Salford high proportion)
Judge remarked 'Attempted murder of the soul'
28. Michael Morris - Follow up work
Home visits to over 200 victims
Spoke to over 70 victims
25 referrals to Credit union
9 referrals for immediate debt advice
10 supported in Criminal injuries compensation claims
2 referrals for home contents insurance
2 referrals for benefits checks
Continuing support for a number of victims
29. National Success
Identified over 2,000 illegal lenders
Arrested over 525 illegal money lenders (loan sharks)
Written off over £38.8 million of illegal debts (money victims would have paid back to illegal lenders if the department had not acted)
Secured over 525 prosecutions, resulting in prison sentencing totalling over 128 years and one indefinite
Helped over 18,237 victims of loan sharks including the most hard to reach individuals
Seized over £1.5 million in cash
Over £27 million of assets are being investigated (under POCA) with the intention of removing these from illegal lender
Referred over 750 victims to alternate (legal) sources of financial support
Trained over 5000 front line staff
30. Areas to work together?
Converting knowledge into intel, every little bit of information helps
Developing joint working protocols on supporting witnesses i.e. Rehousing (Regional wide)
Flooding areas with information following arrests
Feedback - both from/to ourselves via forum
Advice/guidance/input from our team on specific issues
Developing projects to work jointly on (i.e. community projects, awareness activities)
31. Remember
Illegal money lending is a indoor unseen crime
It is notoriously well hidden
People with debts are more likely to be stressed
Multiple debts (including rent arrears) are common
Quality of life is often poor - lots of symptoms
Trapped in a payment cycle, both illegal and legal
Desperate for help, unable to shout out
Fear and reprisal is number one on the list of why people don't want to come forward...
32. If you hear of anyone
Being intimidated / threatened by a money lender
Being charged extortionate amounts of interest ILLEGALLY
Not given a receipt for payments or not told the balance left to pay on their loan
Please call the hotline number 0300 555 2222
SPREAD THE WORD
33.
"It's sad that we have all been through and lost so much due to one guy with no morals. At least he will pay for it now. A lot of people will sleep properly after Friday"
Text message received from Mike Morris victim before sentencing
Question:
What is a Credit Union?
Answer:
It is run by people for people - a co-operative, like a small bank. You can borrow small amounts from them.
Question:
At what stage do the Police get involved?
Answer:
The Illegal Money Lending team is a "stand-alone" and has its own lawyers, doing its own investigations and taking the cases through the courts. If there is any question of violence, they notify the Police and can put alarms into people's homes.
Question:
Has the number of incidents increased?
Answer:
There are more and more being reported. There is a lot of work. The Department advises workers, etc. and with information can do work in any area. They do go door-to-door and are looking at cases in Bournemouth.
Item 2 - Shorts
• Noise Action Plans
Forum asked for details of when implementation of the traffic noise action plans at Castlepoint and the Cooper Dean Roundabout and Flyover is due to take place?
Response from Ian Kalra 13 June 2012:-
As mentioned previously we now have access to DEFRA's Noise Action Planning Support Tool. DEFRA require us to initially focus on what they describe as 'First Priority Locations'. The only such area within Throop, Muscliff, Strouden, Townsend and Holdenhurst is along Castle Lane in the vicinity of Castlepoint. We will therefore be carrying out further on site noise measurements in this area over the next few months after which we will be able to determine what actions, if any, are required.
• Playground Strategy 2009 - 14
Mike Rowland - Senior Parks Officer, sent in the following report:-
The question has arisen as result of the borough's Playground Strategy 2009 (see pdf) in which we aim to reduce the overall number of equipped playgrounds in the borough. The reason for this is that we do not have sufficient funds to continue to maintain good quality and safe facilities at all of the existing playground sites we have, but are also faced with the predicament that some areas of the borough have gaps in provision that need to be met. Therefore we will close some play facilities and open new ones in other locations, overall trying to keep good access to play for all children/parents/carers. Another aim of the strategy is to improve play facilities for older children 8-13 years in line with the national Play Strategy, which aims to help tackle obesity in children.
Almost all of the facilities to close are very small facilities. They were originally developed without safety surfacing. However, the increased cost of play facilities, including safety surfacing, fencing, regular safety inspections and escalating steel prices have made play facilities a lot more expensive than they used to be. It makes more sense to pool resources to develop bigger and better facilities in fewer locations.
However, there are ways for communities to retain facilities earmarked for closure. Communities may set up a group to raise funds for facilities above and beyond what we would supply as a Council. The Council would be willing to inspect and maintain those facilities for the duration of their serviceable life. Under the Localism Act a community may even bid to take over the management of a playground in its entirety, however, this is not a small undertaking as they would need to ensure that safety and insurance inspections were undertaken and that they carried some form of insurance against a claim. A third way would be for community groups to seek Lottery or other charitable funding to improve local play facilities.
The current picture in Throop, Muscliff and Strouden is as follows:
Strouden Playground earmarked for closure when other local facilities have been improved and the play facility has reached the end of its serviceable life.
Bradpole Road Playground - to be improved
Mallard Road Playground - to be improved
Townsend - new play facility
Queens Park - new play facility (adjacent to Strouden ward)
Mountbatten Gardens - to be improved
Setley Gardens/ Cadnum Way - already upgraded
Muscliff Park - already upgraded
Noyce Gardens - retained
Helyar Road - to close
Swansbury Drive - to close
Gunville Crescent - retained
Cucklington gardens - to close
Knowlton gardens - retained
Epiphany School - retained
Stratton Road - retained
Rownhams Road - retained
Chesildene Avenue - retained
Chesildene Drive - to close
Following dialogue with residents near Strouden Woods Playground we have agreed that we will undertake some local consultation later this year to agree with residents which facility in the area should close - i.e. Strouden, Mallard Road or Bradpole Road. Purely from a spatial distribution point of view Strouden Woods make most sense, but we realise that the local community wish to input here. This does not mean there will be any more facilities, but it may change the makeup of hose facilities in the area.
Question:
What is going to happen to Cucklington Gardens? Will it be grassed over?
Answer:
The equipment is out; it will be re-laid with grass. Some of the surfaces are inappropriate these days.
Question:
Throop/Townsend. Old play areas have not been grassed over and are just concrete slabs and a lot of broken glass and rubbish where there used to be playgrounds. Questioner moved to a lovely area a few years ago, but a lot of these changes will alter the outlook. The benches are left, but will not be used. Why not turn it into an eco-friendly area?
Answer:
Cllr Weinhonig stated there had been a meeting with Mike Rowland (Parks) last February/March, to discuss strategy. The areas were checked and they were asked to do something. Some small parks will close and bigger ones will opened elsewhere. Cllr Weinhonig will email Mike Rowland tonight. The Councillors hold open surgeries In Charminster and Castlepoint libraries.
• Troika plans for Park and Ride Site and Grade Separated Junction at Riverside
(report by Secretary)
When a Park and Ride scheme on the other side of the Spur Road was originally proposed, it sounded pretty innocuous until we saw the plans - most notable for the massive elevated dumbbell shaped junction over the Spur Road by the footbridge, in the Green Belt and even partially in the Conservation Area.
However, one thing was immediately obvious. No-one spends £10 million on a junction just for a car park and some lorries. The answer was obvious. The junction was needed to gain access to the land surrounding the National Retired Nurses Home for Office development and it would also form a gateway into the whole of the Green Belt from Holdenhurst and Townsend to Throop and Muscliff, opening it up to development in the future.
At that time, Bournemouth was quite keen on a Park and Ride - even though historically, they all need subsidising by their local Authority - Salisbury was then £1million per year. Troika later took the scheme over and 5 years ago, won on appeal to build Offices behind the Hospital, but they had to build the Park and Ride, Lorry Park and Junction and hand it over to the Council first.
But things have changed. The Council's new Core Strategy states "the Local Transport Plan does not identify a requirement for Park and Ride sites in the Borough within the plan period (prior to 2026)." So if renewed, the Green Belt will be tarmac'd over and the Council will be forced to take over something they don't want, can't afford to subsidise and can't use for anything else - not even an ordinary car park and it will damage the Town Centre by making parking more scarce and expensive, when this Government now allows Councils to provide the parking facilities in town centres that will help them compete with out-of-town shopping centres. What a ridiculous situation. We are going to end up with a white elephant - just like Poole.
We are fighting Traveller sites in the Green Belt because we know that once you start nibbling away at the Green belt for any reason, you set a precedent and open the floodgates.
This renewal has been lodged under the Governments "Greater Flexibility for planning Permissions (November 2009)" which appears to be more of a request for extension than renewal (Mike Holmes was asked to qualify that for us) but one of the conditions imposed by the Inspector in response to so much opposition 5 years ago, was that construction was required to begin within 5 years and that time is up.
Much has changed too in 5 years, including Government guidance allowing sufficient parking in town centres, the recession, the Core Strategy and the Localism Bill, shifting power back into the hands of local people.
Every Government tells us the Green belt is sacrosanct - we shouldn't have to keep fighting like this. So please, make a stand - sign the two petitions going around tonight, but even more important, spend a few minutes to write in or email the Council - details are on the seats, advice and links are on the website.
Planning Policy for Traveller Sites
Also on your seats, you will have found a call to the Council to implement the Government's new Planning Policy for Traveller Sites (here it is) and immediately delete all reference to the three Green Belt sites and make - as laid down - our own assessment of need in Bournemouth for all sites and numbers. Once again please, sign the forms but write or email the Council as individual letters hold more weight.
Item 3 - Gypsy and Traveller Site Consultation / Bournemouth Core Strategy / National Planning Policy Framework
• Mike Holmes - Director Planning and Transport, Bournemouth Borough Council
Gypsy and traveller Site Consultation
Mike said there were 9,747 representations made and since they were lodged, there have been many other changes. National policy has changed and Local Authorities can do their own assessment of need and it is up to them how they do that and what is provided.
The process from now is the Joint committee will look at the representations and report back to Members, looking at the issues and how it now fits into the national picture. We will need to go through the process again and look at sites + look at other sites suggested during the consultation. Are the other sites suitable? There would then be another consultation.
Timing. We have not formally made any decisions with other councils as to how it will go ahead. The assessment of the existing sites will not be completed until next month.
National Planning Policy Framework (NPPF)/The Bournemouth Plan Core Strategy
The previous Government introduced a new planning system - the Local Development Framework, which involves all the planning for the Borough. The Core Strategy is the strategic side.
The council has to decide on the level of housing and where it will be, but that is not in the Green Belt. Previously there was a proposal by Government for 1500 new homes in the Green Belt, but the Council is looking to the town centre for housing. The Town Centre Area Action Plan has been formulated to show how it will go forward.
In March, the government inspector carried out the examination into the Core Strategy and one week after it closed, the Government published the new National Planning Policy Framework, sweeping away the old Planning Policy Statements to a single document, aimed at streamlining the process and has made planning developer friendly, particularly where it concerns the creation of jobs and wealth.
When the government published the draft National Planning Policy Framework, there was a great deal of opposition from large bodies such as the National Trust and the Council for the Protection of Rural England, calling it a "developers' charter." Also, many professionals were concerned, including Mike Holmes. He explained Policy documents should be like a three legged stool, with legs of equal length, the three parts being (1) economy (2) society and function and (3) the environment, but the National Planning Policy Framework is weighted towards the first 2. The Government listened and it is now more balanced. The National Planning Policy Framework is now taken into account when preparing strategies and the inspector required proof that this had been done, by re-opening the inspection in May, when he identified some changes and the Council made some changes (main Modification Schedule) which are out for Consultation until 6th July. (See PDF)
Question:
There is lots of talk about documents, etc. and looking at taking away chunks of the Green Belt and taking away Green Belt for Travellers. Why here, why now? Why not, for example, Hengistbury Head. Also, why not advertise (Planning applications) by door drop or post instead of just a sticker on a tree?
Answer:
The council must balance a lot of things. The population is growing with high birth rates and it is an attractive area. The council must provide for those people with housing and the Government has told us if we don't do our plans, developers will be given a greater say. If the Local Authority does not have an up-to-date Plan, the Inspector will give weight to the developer.
Gypsies and Travellers. There is an issue with unauthorised encampments - more have arrived in Duck Lane today. Parks department is trying to see what can be done, but there is no site for them to go to within the Borough. The Council tries to protect those areas and we must have policies to deal with those issues. As for specific sites, they cannot be sited on land subject to flooding, etc., but the government Inspector would ask, "If not there, where should it go?"
As for Planning Applications and the fluorescent notices, the Council is acting within the law and it is on the council website. The question of direct notification comes up frequently, but it would increase the cost and may not be effective in some cases, e.g. flats. Site notices are the most effective.
Question:
If not there, where? Near the Triangle, there is a shopping development which is not used. Why not change it into Housing?
Answer:
Much of the Triangle is housing. The Park and Ride is a permission. The Government says we should be doing our best for employment. This site is the only business park remaining in the Borough. The Local Transport Plan does look at Park and Ride long term in the future. We must deal with permissions according to Policy.
Question:
Bakers chose the worst possible selection with 3 sites in the Green Belt in the most sought after area. This would not happen anywhere else in the country. There are many in London - not in the green Belt. The Stour is an amazing part of the country.
Answer:
Bakers did a job. Mike has worked in other parts of the country and there are nice sites in places, e.g. Berkshire.
Question:
If there is another consultation by Bakers, will it involve further costs?
Answer:
No decision has yet been made to go to that further work. The report has not yet been received. We cannot see another alternative. We must grasp National policy and do our own assessment.
Question:
Greg Clarke has stated more decisions should come from the Local authority, not the Inspectorate, i.e. Planning refuses a proposal, it goes to the Inspector and is overridden. All Bournemouth Planning should be made in Bournemouth. We need to get rid of the Inspectorate quango.
Answer:
10 years ago, the chance of winning appeals was 50/50, now there is a 20% chance of success. We put forward cogent arguments and we are now more consistent along with the Planning Board Members.
Question:
If you say "not here, then where?" Does Bournemouth have the land required?
Answer:
The assessment was for Permanent and Temporary sites. Now National policy says we can do a re-assessment. When it was done at one time, the figures were too high.
Question:
Does every town have a number of pitches it must provide?
Answer:
Yes, it is nationwide. It is an emotive issue.
Question:
Re: Traveller Sites. The area opposite the allotments behind Castlepoint was left in a colossal state last summer. Does that have any sway? Why not move them further out into the sticks?
Answer:
You then go into the Green Belt.
Question:
So it will still be in the Green Belt?
Answer:
No decision has been made yet. We will come back and re-consult.
Chairman: The Planning Policy for Traveller Sites puts more emphasis on local planning.
Question:
Where are the other sites as a result of the consultation?
Answer:
We don't know, we have not seen the report. We have been told there have been other sites suggested.
Comment: Can we send a message of support to the farmer Dave Dawson as reported in the Daily Mail?
Question:
Can you tell us whether you think the changes this Government has made, help us, so that Bournemouth can say right - not in the Green Belt? Can we say, "we have no room," or will the Inspector turn it round and leave it hanging over our heads? We seem to go through the process - it goes away - and then it comes back.
Answer:
Tobias Ellwood: That is a very interesting question and it has been troubling the conurbation for many years. The policy has changed and we have a letter to that effect. We have lobbied No:10 to say we do not want building on the Green Belt. If we don't allow supermarkets, houses or a casino, why would we use it for travellers? The response on traveller site guidance makes it clear there are more powers for Local Authorities to defend their areas.
Tobias hopes the Council is strong enough - we have a letter to say the Green Belt should be protected. The Baker's report is madness. He suggests we make use of the land, i.e. for cows, horses, etc. we must protect it for future generations.
We must demand -
(1) for the permanent sites - how many Gypsies and Travellers have connections to the area and are demanding to live in this area? If we don't know, they may come from abroad to fill the spaces. There is an opportunity for change here. If we have no space and no demand, we must take that to the Secretary of State. We must all encourage the Council to say that.
(2) Transit site. It costs us - the rate-payers to move them off. There is a long process for the Council - health and Safety regulations, inspections, Crime and Justice and Public Order 62A, survey of needs, proceedings, court hearing, warrant - all this takes on average 8 days and the day before, they pack up and go.
In this same legislation, there is a Section 61 which says the Police can tell them to move off within hours, but it is never used. There needs to be high level discussions - this is what we need to enforce - it costs around £10k every unauthorised encampment.
It is argued that we need a transit site or it means we can't do any different, but if a site has a group and more arrive, where do they go?
It is important we undertake a legal change so that the Green belt will be protected and the Council can do its own assessment. The final decision must be in the Core Strategy, Bournemouth Borough council has to justify permanent and transit sites - it should be none.
Bournemouth is crowded - it has no space to bleed into the Green belt.
Question:
We are saying it costs £10k each time, but the playgrounds can't be fixed!
Answer:
Appreciated. The council has asked him to change the law, but the law is there, but not being implemented. We end up with "traveller tennis." We need to protect Bournemouth. We need a motion of support for the council and money for security bunds etc. We are wasting money the Council should spend elsewhere.
Forum Chair: Clarification. Do we need policy only or actually need an available site for Section 62?
Answer - Tobias Ellwood:
Not correct. The Council may feel it could have a site, but it is a timing issue. If the Police are not there quickly, they are "settled." A group was very quickly moved on in Poole recently.
Mike Holmes: There is a site owned by the council in Poole. The justification was there were sites in Poole they could go to. A meeting is being sought with the Police.
Tobias: Will contact Bob Neale - Minister for Local Government and will write to the Home Secretary for clarification. Section 61 can be used.
Question:
Who are Bakers? What credentials to they have? Who made the decision to employ them?
Answer:
Mike Holmes: They are a company of consultants who have advised the Local Authority before. They are known as a firm of reputable consultants. The Dorset Authorities - Councils, Districts and unitary Authorities made up a committee. Mike had not used them before.
Question:
Is this just in England or in Europe too?
Answer:
Not sure about Europe, but it is National policy here - England, Scotland and Wales.
Question:
So we could have Travellers from Europe to occupy sites?
Answer:
We have had some recently from southern Ireland. Those were itinerant workers. They offer to tarmac drives, but after they go, there is no-one to deal with complaints. They target older people. They do not work for the Council as they often claim. The council has tried to find ways and networks to warn people. If there was no work, they would not come to Bournemouth.
Question:
Why look at the Green belt - they should go way out in the "sticks."
Answer:
Secretary: Bournemouth doesn't have any "sticks." Most of the remaining Green Belt is just a ribbon running along our Northern border, between us and the river as partly indicated on a Power Point slide. Secretary had asked Housing Department how many people on the Housing Waiting List (Register) have requested housing on traveller sites, in the same way as some people require homes suitable for disabled or large families, but was told this type of housing will not go on the Register and it is not that Department's responsibility. She then was directed to the Planning department and asked the Director, Mike Holmes, who stated there are no lists because we do not have any sites yet! Secretary reiterated the call from Forum for Bournemouth Borough Council to scrap the 'Joint' Development Plan Document which is the subject of the last consultation on the grounds the figures were laid down by Central Government by the South West Regional Assembly for its Regional Spatial Strategy well over 5 years ago. It was pointed out that the Department for Communities and Local Government "Planning policy for traveller sites," which must be read in conjunction with the National Planning Policy Framework is now current and makes Local Authorities responsible for setting the levels of pitches in their own areas. She asked everyone to fill out the sheets or sign the petition which were at Forum or from the website, calling for immediate deletion of the three Green Belt sites pending proper consultation with both the settled and traveller communities. Bournemouth people must decide what goes on in their own area. With several thousand people still on our Housing Waiting list, all following the new criteria for being there, i.e. local or with local connections, disabled, ex-armed forces or with local connections, etc., etc., we cannot justify just building sites, then looking for people to fill them from outside.
Tobias Ellwood MP thanked Forum. He said Forums are a good opportunity to bring important issues together.
On a lighter note, he praised the recent celebrations of the Queen's Diamond Jubilee. How proud we were to be reminded what it is to be British, with a monarch of 60 years at the head, to remind us what we are about. We are a proud nation. He thanked all those who organised events and noted Queen Elizabeth II is only the second monarch since William the Conqueror to make 60 years.
Forum Chair: On that note, he reminded Forum there are many threats to communities from people like Rogue traders and Loan Sharks and we should take the spirit of unity forward and watch out for our neighbours.
Forum Chair: asked for a show of hands (1) for all those in favour of allowing the Committee to take forward objections to the renewal of planning permission for the Troika Park and Ride Scheme - carried unanimously and (2) for all those in favour of allowing the Committee to act against Gypsy and Traveller Sites in the Green Belt - also carried unanimously.
Item 4 - Residents Question Time
Question:
Is there any further development on Throop Mill?
Answer:
Cllr Borthwick: The owners don't want to know and won't talk to us.
Question:
Street cleaning. There is dog mess in a bag and other litter, cups, wrappers, etc. at the bus stop by the West Way Co-op and garage that has been there 5 weeks. Forum member has phoned the Council, but it is still there - it is never cleaned.
Answer:
Cllr Borthwick will sort it out tomorrow (Friday).
Question:
Odour from the sewage farm on the Spur Road
Answer:
Secretary is in frequent contact with Ashlea Lane, Sewage Treatment Manager South, Wessex Water (ashlea.lane@wessexwater.co.uk) Secretary feels it was very bad during the recent hot spell and nothing to do with the farmer this time. Members of the Committee and Councillors had visited the site a couple of years ago and noticed very little odour actually on the site, but the concentrated sludge which is then piped to Berry Hill can be a problem if a specific piece of equipment is not working properly.
She will contact Ashlea asap (see box below - added 21st June 2012).
Holdenhurst Sewage Treatment Works
Question in Forum 14 June 2012 re: odours from sewage works.
Secretary reported very bad odour on 20th June 2012 and noted the smell had been worse for some weeks. The following email was received from Ashlea Lane, Treatment Manager South, Wessex Water, Claverton Down Road, Claverton Down, Bath. BA2 7WW. ashlea.lane@wessexwater.co.uk
"Thank you for your emails. We do currently have an operational issue on site at Holdenhurst Sewage Treatment Works, our sludge pumping line between the site and Berry Hill treatment centre is currently partially blocked. We are currently working to clear this blockage but are having to tanker sludge until this blockage is cleared. This operation may be causing mal-odours.
I am very sorry if the odour you are detecting is coming from the Sewage Treatment Works. We will get this blockage cleared as quickly as we can and I will update you when I have a bit more information.
Just to update you the construction work on site is progressing well and the team is starting to replace the screening system with new units. We hope that this will help to reduce the odour from site.
Many Thanks
Ashlea Lane"
Question:
Grass is very high and overgrown in several places and on the edge of Townsend. Rubbish bins have been taken away and the area is very messy.
Answer:
Cllr. Weinhonig: Townsend together did a neighbourhood inspection yesterday - this is a new process with Partners. Some areas of grass are deliberately left as meadow.
Item 5 - Any Other Business
Muscliff Music Festival
Saturday 14th July 12noon to 9p.m.
Muscliff Family Fun Day
Sunday 15th July 11a.m. to 5p.m.
Volunteers are needed for both days - even a couple of hours would be great. Meetings on Friday 29th June 10 a.m. - 12 noon or Monday 2nd July, 10 a.m., or just turn up on the day and help.
Holdenhurst Village Summer Festival and Scarecrow Competition
Saturday, 14th July 2012 - 12 noon till 4 p.m.
Also a Celebration of Marriage in the Church, hog roast, cream teas, Caring Canines on Parade, stalls, games and lots more.
Olympic Torch Festival
Friday, 13 July Pier Approach
Apply for free tickets from 9 a.m. 15 June, BH postcodes only on Friday - general release on Saturday.
Bradpole Road Community Centre
will be opened by the Mayor at 4 p.m. on Friday 22nd June.
Item 6 - October Forum Meeting - Proposed date - 25th October 2012