Future and Conservation of Hicks Farm
Stuart Clarke - Countryside Policy Officer, Bournemouth Borough Council
Forum Area - Member of Parliament
The re-elected MP Tobias Ellwood will be invited to address Forum on local issues
Strouden Park Community Centre
Castle Lane Traffic Lights
Troika Office Development / Park and Ride
Regional Spatial Strategy / Development of the Green Belt
A338 re-surfacing / Noise Action Plans

Item 1 - Future and Conservation of Hicks Farm
• Stuart Clarke - Countryside Policy Officer, Bournemouth Borough Council
Hicks Farm is on the boundary of North Bournemouth, adjacent to the River Stour and is one of the last few green spaces.
It is a grade 2 listed farmhouse and brick barn, along with various other farm buildings. It is owned by the council and Dave Maile (who attended Forum) is the tenant farmer. The buildings are mainly used for storage or converted to stables.
Hicks Farm comprises 50 hectares of improved pasture and woodland, all in the Green Belt and a small area is leased to the South Coast Land Society. The majority of the land is within the floodplain. It recently had a dairy herd, but is now mostly grazed by horses and ponies and some cattle. Some grass is taken for hay.
Aspiration: In liaison with Dave Maile and Land Agents, in 2007, architects carried out a feasibility exercise, whereupon the buildings would be converted to an educational centre for local schools and people, with the emphasis on farming and food production. Other possibilities could be a cafe, a farm shop, local allotments or grazing. A building on the other side of the house could be a centre for the Countryside Team. With the whole scheme being costed out at £2.5million, it is unlikely the whole development will go ahead in the near future.
The key factor with the land holding is to put back the hedgerows. As there has been no public access, it is a fantastic wildlife resource with incredible biodiversity and this can be enhanced with, for instance, shallow ponds to attract wading birds. Carefully planned access to an observation hide near the ponds would enable wonderful views to be seen without destroying it. Visiting must be sensitively and carefully planned.
The first phase with DEFRAs Environmental Stewardship Scheme and the Tree Council is the planting of approximately 1 mile of hedging with several thousand trees and fencing both sides to deter Roe Deer.
Plants and wildlife include:-
Mousetail - an annual wildflower, which is rare nationally
Curlew, Lapwing, Godwit and Snipe
Stag Beetle - a hotspot for these nationally rare insects
Kingfisher
Otter - there are many signs of Otter. Otters were recovered from extinction in the 60s
Brown Hare - this is the only place they are found in the Borough and are helped to avoid predators by the fencing corridors for the hedge planting. If unlimited public access was allowed, the Brown Hares would disappear very quickly, so we need to look carefully at access if people wish to see them.
Grazing:
The Council has 50 cattle, 6 Shetland Ponies and 4 Goats (on the cliffs).
A leading member, due to 20 years experience, of the Dorset Urban Heath Grazing Partnership, it is an ideal opportunity to have a commercial breeding herd. There are black and white Shetland Cattle and Black Galloways, which are very hardy and need little supplementary feeding. There are Exmoor Ponies on Turbary Common.
Phase 2 in 2011:-
More hedge planting
Building the Hide
Negotiating the Tenancy Agreement
Have the area designated a Local Nature Reserve
To contact Stuart Clarke, e-mail stuart.clarke@bournemouth.gov.uk, or tel: (01202) 437824
Question 1:
Cllr Whittaker: Horse riders would like to extend the path from Throop to the Arboretum to get them off of Throop Road and Muscliff Lane.
Answer:
There is no reason a safer and more attractive route should not be provided in Phase 2.
Comment: Cllr Borthwick. When he visited, there were young people working there and he could not believe there was such a wonderful site in Bournemouth.
He urged people to contact Stuart to visit.
Question 2:
Where would people park? Would they visit by closed invitation? Traffic on that road is already bad enough.
Answer:
At the moment they are not promoting it for public access or as a tourist site. As it is close to the Stour Valley Way, people would be encouraged to walk or cycle. The buildings are not on plan yet and parking would be considered then.
Question 3:
Forum Member is glad Hicks Farm will be a Nature Reserve and felt it was wonderful to involve children in its future. How far down the line will you be able to have schoolchildren in? Have you considered applying for funding from Spring Watch and Autumn Watch?
Answer:
Yes, it will involve more young people. The Green Infrastructure Strategy will come into being soon and the Stour Valley will be an integral part. This may unlock funding. It is not all doom and gloom, there may be something round the corner, possibly Lottery Funding.
Question 4:
Is there an opportunity for some of the land to be used as community allotments and will it form part of the Connect2 cycle path?
Answer:
a) Cycle path is delayed and yes it would be ideal.
b) Community Allotments are part of the general farm holdings on Muscliff and there are plans for another site there, not on Hicks farm, but on the Farms Estate in the near future and this will probably go ahead.
Comment: Cllr Whittaker. Soil testing is being undertaken at the moment on a site just past Berry Hill. This could all happen in the next couple of months.
Question 5:
It is a lovely area but a busy road. How will it be affected?
Answer:
At the moment - no effect. In the future - if and when building starts, the programme will look closely at travel plans. If you look at Hengistbury Head, it is having a rigorous green Travel Plan and Hicks Farm will be the same.
Question 6:
Stour Valley Supporters. Will Gillie Hayball (Community Parks and Countryside Officer, Stour Valley Rangers) be further stretched?
Answer:
Yes - will come under the Countryside team Dave (Maile) is an asset. with his continued involvement. The cattle have a grazing manager and it is hoped to get an assistant. They are confident they can cope with the extra work.
Question 7:
How does it work with the Barn at Stour Acres? (Barn at Muscliff off of Granby Road)
Answer:
This gateway to the Stour Valley Nature Reserve is underused and we would like to make the Barn a low key visitor centre, perhaps with cafe and toilets. The proposals have been put forward for funding and the principle accepted, possibly from Developer Contributions. Wait for the green Infrastructure Strategy. It will happen before Hicks Farm along with Hengistbury Head and this will act as a catalyst for Hicks Farm.
Question 8:
What is the estimated annual footfall?
Answer:
No idea at the moment. There are the aspirations and we will consult and do the homework if funding becomes available.
Question 9:
Will it be low key and not like Moors Valley?
Answer:
We do not have the capacity to be another Moors Valley. If and when the opportunity arises, we would have a study.
Question 10:
Is there a contingency plan if no further money is forthcoming?
Answer:
Things will stay as they are. Dave (Maile) will continue living there, but the infrastructure will inevitably deteriorate although some will be used. It would be sad to have that asset there, but like Throop Mill, with a lack of will and funding.
Comment: Forum Chair. It all sounds much better than 1,500 new houses on the Green belt! Concerns over traffic, etc, will be the subject of future Forums. Stuart was thanked for his excellent presentation.
Item 2 - Forum Area - Member of Parliament
• The re-elected MP Tobias Ellwood will be invited to address Forum on local issues
Tobias thanked Forum for this invitation, the opportunity to learn from us and those who voted for him.
He explained there had been major changes in Parliament. The last time there was a Coalition Government was before the war. They are usually only temporary as there is pressure on stability and leadership. It would not be good enough to stagnate before, say October, then have another election as this would not be good for the UK. The Conservatives could form a Government with the Lib Dems and it is hoped for the nation, a five year period is possible. The UK is very exposed because of the importance of the financial markets. The Deficit is £167 billion.
The Coalition document is available on the website. There were 24 Bills listed in the Queen's Speech, e.g.:
There will be a new Office for Budget Responsibility - an independent organisation to provide (non-party political) statistics.
National Insurance Bill - contributions will be kept down to keep people in work.
Welfare Reform - measures to get people back to work
Pensions and Savings - will return the link with earnings and an increase in pension age will be debated.
Financial Services - ensure leadership and clarity of who is in charge of the city.
Academies Bill - any school can apply for academy status, which takes away the powers of the local authority and returns it to the school governors.
NHS Framework Bill
Police reform Bill - elected Commissioners will interface between police and the public and they would come to Forum and explain crime in the area and what will be done.
Decentralism and Localism Bill - will take away powers from Government and give it to Local Councils, where there will be more scrutiny, eg: this Forum is the best in Bournemouth and will be given more powers.
ID Cards Bill - they will be scrapped.
Freedom (Great Repeal) Bill - to get rid of intrusion into our lives and support civil liberties.
EU (Community Referendum Lock) Bill - there will be no "Lisbon Treaties" by Parliament with a referendum - here with Conservatives will part company with the Lib Dems as they will with the:-
(Parliamentary Reforms Bills) Voting Bill here Conservatives part company with the Lib Dems we debate a new voting system
Public Bodies Bill - the Local Government Grant of £29 billion is being ring-fenced. There will be cost-cutting by abolishing many quangos, e.g. National Potato Council (£20million p.a.) Government Office for the South West, but some are useful and will remain, e.g. Arts Council.
Other Related Issues
"Garden Grabbing" - seen in Bournemouth, where developers put pressure on people to sell up and build big blocks of flats in the garden, which does not produce family housing and there is no grass, etc. Every bit of green is now classified as green belt, whereas back gardens used to be Brownfield.
Density targets introduced by Prescott will be abolished and the Green Belt is safe with the abolition of Regional Spatial Strategies. Our green Belt would have been prime real estate and the figures would have been decided by Exeter (the abolition has been confirmed in writing by Eric Pickles MP)
Unauthorised development - the Councils will have increased powers to enforce planning regulations – even to demolishing unauthorised buildings.
Scrapping of HIPS, which are costly, but the Energy Performance Certificates will remain. Energy efficiency should be reflected in the cost of the house and if not done, will show on the certificate.
Above points represent 1 year of legislation and there will be more Bills in November 2011
Question 1:
What is happening with regard to Gypsy and traveller sites?
Answer:
Abolishing the Regional Spatial Strategies will mean scrapping top down government and proscribed planning numbers.
Question 2:
Both the NHS and Overseas Aid are to be ring fenced. Agree with NHS, but why overseas aid when our elderly people are worried their Home Wardens/Home Helps will go. Should be give money to people who have lived here for years, not as has been reported, places like Germany and Japan?
Answer:
After the Economy, the 2nd biggest issue in the UK is Immigration. People who arrive here are the strong, leaving the weaker and poorer behind. The UN set a target of 0.7% GDP to be spent on poorer countries, then they will look after themselves, but has money made Africa any better? There is s debate as to how much money goes into their governments and they turn their backs on the people. Secretary of State for International Development has announced we will not pour money in without seeing results in projects to counteract corruption. MPs surgeries see many immigrants wishing to stay. Why do they turn their backs on their own countries? - they have been given the signal it is easier to live here.
The £30million to China has been stopped and the money to Germany was possibly for a joint project.
There is therefore logic in ring fencing the money to help countries to help themselves, or they will head this way.
Question 3:
Quangos - could the Government publish which ones are stopping and let us know who and when?
Answer:
George Osborne announced this on day 3 - it has already happened. The National Potato Council has gone. This administration has gone for transparent government.
Question 4:
What are MPs pension formulas?
Answer:
In March 2008, Tobias issued a press release which the Echo printed - anyone can see all of his finances - anyone is welcome to see it.
Question 5:
What will an MPs pension be if he/she is only in for one term.
Answer:
There is a Bill going through which will reassess all state pensions on the public purse. Is it right Civil Servants have pensions ring fenced - it will be reviewed. All can be found on the internet.
Question 6:
Is the Green Belt safe under the Coalition Government?
Answer:
If it happens, we can no longer blame national Government. Now the Council will choose. There are 8,000 people on the Housing waiting list in Bournemouth. Any new home the Council builds will keep the council tax for 6 years. Wise councils will link in with residents and link in with the Dorset area. Some areas wanted housing but were not allowed, whereas Bournemouth was being forced to build.
Question 7:
Cllr Whittaker: Many applications are refused at local level, then go through on Appeal, e.g. 285 Castle Lane, where officers refused development to the rear. Will the planning Inspectorate co-operate and work alongside the local authority / 40 planning applications from one developer will soon be coming before the Board - timed to beat the social housing provision rules recently introduced.
Answer:
Government is committed to the Green Belt. Inspectors come into Government Office for the South West, which is going and will mean there will be no interference from Bristol.
Question 8:
If the Gypsies and Traveller sites will no longer be built, will they be found jobs instead of state benefits?
Answer:
Some places can provide accommodation and we can share those places, e.g. we do not need nuclear power stations in every borough. Dorset may have some spaces, Bournemouth is overdeveloped. We are providing very high levels of housing so somewhere else must provide sites. Jobs are covered in the Welfare Reform Bill and everyone must prove they have been looking for a job for 6 months.
Question 9:
Will Council Tax regulations be tightened up, e.g. Students - up to 6 people can live in a house without paying and if owners don't live in the Borough, there is no Council Tax.
Answer:
Powers will be given to Councils or central Government. Tobias will look into it.
Item 3 - Updates
•Strouden Park Community Centre
As only one letter of objection was received to plans for 9 houses and a new Community Centre at Bradpole Road, the application was passed under "delegated powers," i.e. it did not go to the Planning Board.
Plans for 6 one-bedroom and 2 two-bedroom bungalows designed for the elderly, in Craigmoor Avenue, went before the Planning Board as several local residents expressed concerns, mainly around parking problems. Cllr Trickett liaised with residents and Planning, suggesting alterations to the road layout and parking bays, which were agreed by both and the application was passed unanimously.
Due to the recession, Signpost Housing withdrew from building the Community Centre development as it is aimed at shared ownership schemes and the Council is trying to find someone else to put money into it. However, it is hoped the Craigmoor Avenue will be built by the Council itself, as there is a huge need for affordable housing in the Borough.
Question:
When is it all happening?
Answer:
No date has been set. The Council will build Craigmoor avenue with the Housing Landlord Section.
Cllr Trickett: Re: the parking issue, parking is not part of the planning application as money must come from Highway. However, Barry Carse is in favour of the scheme and it is hoped it will commence in 6 to 9 months.
• Castle Lane Traffic Lights
Forum has been closely involved in this matter for over a year and the ex Chair and present Chair, met with Michelle Fillingham, IEng FIHE, Traffic Signal Design Engineer, Technical Services, Bournemouth Borough Council, for an on site visit.
Cllr Whittaker raised the matter of our local roads being used as rat runs at the last Environment and Transport Scrutiny panel.
Michelle Fillingham supplied the following Summary Report for Forum 17 June 2010 and also attended to answer any questions from Forum Members:-
Thank you for your patience with regards to the review of the traffic signals at the junctions of Castle Lane West with both Muscliffe Lane and Wimborne Road.
Since the beginning of May there have been a number of site investigations at both the signalled junctions which are in an existing UTC (Urban Traffic Control) Region. These visits have been carried out during the morning and evening peak periods as well as outside the peaks. I have listed under bullet points below the results of this review.
On site observations have established that the majority of the Castle Lane traffic is heading towards Whitelegg Way and that traffic was regularly queued past Muscliff Lane in a single lane which was blocking the exit of vehicles in Muscliff Lane the majority of which appear to be heading to Wimborne Road.
Over the last 18 months there has been a noticeable reduction in the volume of traffic on Castle Lane West but a definite increase in the traffic volumes leaving Muscliff Lane especially during the morning peak and the school leaving peak.
This reduction ties in with a national reduction in traffic volumes that can be attributed to rising fuel costs and the current economic situation.
The linking under UTC between the two junctions has been adjusted to reduce the volume of trapped traffic which has improved the exit from Muscliff Lane.
Overall the delays at the junction have now been decreased with better progression for traffic travelling through both the junctions.
The nature of UTC control is that closely associated junctions operate at the same cycle time to maintain coordination through the network.
This can lead to the perception that vehicles waiting on side roads, such as Muscliff Lane, wait longer than would strictly necessary than if the junction was operating in isolation.
To minimise this, adjustments have been made to the UTC control to the redistribution of green time during peak periods so that any available time is diverted to Muscliff Lane.
An additional point is that during the detailed review of the operation of these sites it was discovered that one of the buried UTC detectors in Castle Lane West had an intermittent fault.
This had the consequence of causing the UTC control to allocate more time to this approach than was necessary.
Unfortunately the nature of the fault did not allow an automatic fault report to be generated, however once discovered the problem was rectified within 24 hours.
Our safety team will investigate the viability of yellow box markings to help Muscliff Lane traffic have clearer access to the left lane on Castle Lane for Wimborne Road. However it is worth noting that at present there appears to be no immediate need for one.
• Troika Office Development / Park and Ride
Despite considerable local opposition Troika Developments Ltd., were granted planning permission to develop on both sides of Riverside Avenue in 2007. With no building as yet taking place, Troika has applied to renew their plans which were approved on 15th May 2007.
This means that objections can again be made against the proposals, but as stated on the council's public notices, objections must be received by the Planning and Transport Department of Bournemouth Council by tomorrow, Friday, 18th June 2010.
As can be seen on the notice board, the development is on a huge scale, and would have a serious effect on the surrounding area through an increase in traffic noise, air pollution, and traffic congestion on the Wessex Way resulting in traffic being diverted into Castle Lane West. A substantial part of the local green belt would also be lost.
The plans include offices with 1090 car spaces on Wessex Fields, and a park and ride facility for 860 cars and 10 lorries on the adjacent Green Belt meadows. Access via the A338, would involve 2 elevated roundabouts, an overbridge and access roads near the Cooper Dean Roundabout. Up to 60 Wessex Water sewage tankers per day would also be leaving and entering from the A338, instead of the present Riverside Avenue route.
If you wish to object to these proposals there is a petition you can sign which will be handed in to the Council before the deadline.
• Regional Spatial Strategy / Development of the Green Belt
Since 2006, this Forum has taken an extremely active interest in the preparation of the South West Regional Assembly's Regional Spatial Strategy, in particular, the provision of Gypsy and Traveller sites in the Borough and proposals to force Bournemouth to build 1,500 new homes in our only remaining area of Green Belt.
TMSTH Area Forum was a founder member of the committee of the South East Dorset Defence Consortium organising publicity, letter writing, emails, demonstrations, lobbying, a Green Protest Rally and we took a petition 10 Downing Street in October 2008.
Thanks to the massive of amount of opposition raised to the proposals, collectively, over 35,000 objections, the Strategy was fatally delayed until after the recent elections and a change of Government.
Immediately after his re-election, our M.P. Tobias Ellwood, met the Secretary of State for Communities and Local Government, Eric Pickles, who assured him the new coalition will scrap the Regional Spatial Strategies and return decisions on local housing supplies to the Local Authorities. This was then confirmed in writing on 25th May, 2010, in a letter to the Chief planning Officers and the Planning Inspectorate:-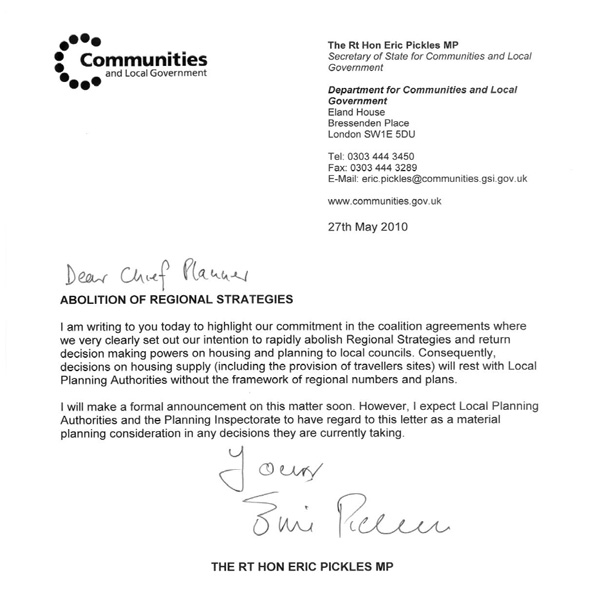 Background details can be found on the website or in writing from the Secretary
We are delighted at this fantastic result and the Secretary stressed that each and every one who took part in the campaign played a significant role in the successful outcome and thanked Forum for its support. The Green Belt is safe for the foreseeable future, but we must remain vigilant as these decisions will now be handed over to the Council.
• A338 re-surfacing / Noise Action Plans
Vice Chairman received the following e-mail on 16th June 2010:-
Subject: A338 major maintenance scheme funding - press release
From: BournemouthSpurRoad@dorsetcc.gov.uk
Dear Mr O'Luby,
Following your telephone conversation with David Diaz, pleased see below a copy of our official press release issued yesterday.
Dorset County Council has issued a formal press release to the media regarding funding for the A338 Bournemouth Spur Road major maintenance scheme.
Government puts A338 funding decision on hold until autumn
The Government has told Dorset County Council that it will not be making a decision on the £24.3m funding requested to renew the A338 Bournemouth Spur Road until after its spending review this autumn.
The Department for Transport (DfT) has issued guidance to local authorities about the Government's position on major transport schemes.
It said the Government's most urgent priority is to tackle the UK?s budget deficit to support the economic recovery. As the DfT will be playing a full role in the Government's spending review, it said it will not be able to identify the major investments it can support until after the review has been completed.
Writing to the county council, the DfT said that until the spending review is complete it will not be in a position to make a decision on the request for funding for the A338 Bournemouth Spur Road major maintenance scheme.
Dorset County Council submitted its business case for the A338 to the DfT in October, detailing the £24.3m needed in addition to the £2.7m being provided by the county council. The scheme had already been agreed at the regional level with a requirement that work should start in 2010.
Between November 2009 and March 2010, the county council undertook essential advance works on the verges adjacent to the Spur Road to enable the scheme to keep to its tight schedule once approved.
The A338 was not among those major transport schemes approved for Government funding before the General Election. This meant that the scheme, planned to start in September 2010 and take six months to complete, has had to be put on hold until a decision on the funding is made.
The A338 Bournemouth Spur Road was built around 40 years ago and is now at the end of its design life, with the materials it was constructed from in desperate need of replacement. As an alternative to the complete renewal of the road, Dorset County Council and Bournemouth Borough Council would need to carry out frequent ad hoc repairs at a cost to both authorities of around £1m a year, which would be likely to cause regular disruption to road users.
Dorset County Council's cabinet member for transport, Cllr Peter Finney, said:
"Given that this is the busiest route in the county, we are extremely dismayed with the delay but will work to press the Department for Transport for future funding. I do not relish the councils spending an extra £1 million a year on ongoing maintenance when the road requires a major refurbishment, which will save us money in the long run."
"We share the frustration of road users who are going to experience inconvenience over a much longer time frame than if we had been able to undertake these essential works."
The DfT's guidance to local authorities is available here:
http://www.dft.gov.uk/pgr/regional/ltp/major/majorschemeguide/
For more information on the A338 Bournemouth Spur Road major maintenance scheme, go to:
www.dorsetforyou.com/bournemouthspurroad
A338 Bournemouth Spur Road
Strategic Projects, Highways and Transportation, Environment Directorate, Dorset County Council, County Hall, Dorchester DT1 1XJ
Telephone: 01305 221055 | Fax: 01305 224835 | E-mail: bournemouthspurroad@dorsetcc.gov.uk
Item 4 - Residents Question Time
Question 1:
Troika Office Development. The National retired Nurses Home is 65 years old and in great jeopardy. These plans for 4 story office blocks will destroy their quality of life and they will be isolated by the road system. It is realised the Council did refuse the original application, but it went on to win at Appeal. Any Noise Assessment carried out will only be on what is there now, not on what there will be with the road junction and traffic in the future. Please sign the petition to Support the Nurses Home.
Answer:
Cllr Shaw pledged support from all councillors.
Question 2:
Crossing at Castlepoint. Nothing has been done about the timing between the pedestrian crossing and the next lights, so cars driving through have no time to register the crossing lights.
Answer:
Michelle Fillingham.
Started to look at Castlepoint in April - there are 9 sets of signals.
She has put together a report and funding will be sought.
Agrees the crossings are of concern. Disagree nothing has been done. Extra signs have been put up and a couple of other things done, but biggest issue is the roundabouts are too small. Because of the close proximity, louvers have been applied to the lights, but these just make it look a confusion. It is a "signals graveyard."
They must live with the inherited design build - bear with us it is hoped there will be some noticeable changes.
Crossings - the Green Man will in the future be on a pole, not a traffic light.
Michelle does know what we are talking about, but there are 140 signals in Castle Lane.
Question 3:
Why not turn off the pedestrian crossing completely?
Answer:
The Government is looking into this, but an experiment in Bristol did not work. Lights are there to give pedestrians and vulnerable users a chance. The Government must look into the question carefully. Michelle will be keeping in touch.
Question 4:
Is the review taking place all the way along including Castle Lane East and West, particularly the phasing at Cooper Dean?
Answer:
Yes - they are looking at it. It is a signalised roundabout with Toucan Crossings. In recent years there has been much additional traffic to the Hospital, therefore a dedicated left lane was made, but instead of using all 3 lanes (to go ahead) there is now one long congested lane and two empty ones. They will try to encourage people to use all the lanes, but the biggest problem is the bottleneck at Riverside.
Question 5:
Is there linking on the Library crossing to other lights?
Answer:
Yes. They are trying to keep traffic moving while finding a balance between pedestrians and traffic. They hope to implement a "call forward" so that the next light will be ready for pedestrians to cross on the second side. All depends on linking with the UTC (Urban Traffic Control). Muscliff wants to run at 52 seconds, whereas Wimborne Road is cycling at 88 seconds. To keep offsets, they try to distribute spare time, therefore side roads suffer and motorists may sit on a red light. Signalled roundabouts cannot use signal actuation. All are individual and all have offsets. They will look at different ways, but may have to go to the government.
Question 6:
Mallard Road - has 4 sets of traffic lights.
Answer:
Castlepoint is 120 seconds and they are trying to achieve 60 seconds, hopefully once all the work is done, but they are tied by what is on the ground.
Question 7:
The original Troika Planning Meeting was held in St. Peters School, Holdenhurst Avenue, but no member of the public was allowed to speak. Why not?
Answer:
Cllr Whittaker. The meeting was a recognised Planning Board Meeting and as normal for Bournemouth (unlike Poole) deputations were allowed. The Chairman cannot take questions at a Planning Board meeting. Bournemouth allowed everyone who requested a deputation to speak. The Board refused the application, but this was overturned by the Inspector. Cllr Whittaker queries whether the new legislation regarding Green Belts will now make a difference as the Park and Ride (which must be built before the B1 Offices and provide access to the scheme) is in the green Belt.
Comment:
Tobias Ellwood MP. Were section 106 Agreements included in the scheme? If they were not needed, it may be justification to throw this out.
Answer:
It is felt the need to supply a Park and Ride Scheme and associated junction over the A338 was in lieu of Section 106 Agreements.
Item 5 - Any Other Business
St Barnabas Church
Roger Bourne, Church Warden, Parish of Holdenhurst, Holdenhurst Village and St. Barnabas.
St Barnabas is in use 7 days a week and has had a pre-school playgroup for 40 years. Gas bills alone are £210 per week, the boiler is 40 years old and it was second-hand when fitted. They want to put in a Sustainable Energy Programme with ground source heat pump, solar heating and photovolvic cells to generate electricity.
They have been turned down for a grant pending evidence the local community is supporting them.
Forum Members were asked to sign a petition, answer a questionnaire or send in a letter of support.
Details will be posted on the Forum website asap.
4b Yellow Buses
Cllr Whittaker Has managed to get the 4b bus service re-instated on a Sunday.
Traffic control Room
Michelle Fillingham issued an invitation to Forum members to visit the Traffic Control Room and see the UTC at work.
Forthcoming Events
- Holdenhurst Village Summer Festival, Scarecrows and Fayre with Life Celebration Flowers in the Church. Saturday 17th July from 12 noon.
- Muscliff Family Funday Sunday 18th July - 11am to 4pm
- Setley Park - The mayor will be opening Setley Park on Saturday, 19 June 2010 - 1.30pm
Proposed Date of Next Forum
Thursday, 28th October 2010 - TO BE CONFIRMED