A.G.M and Election of Officers
Cllr Nicola Greene - Cabinet Member for Education and Children's Services
Inspector Mike Claxton - Bournemouth North, Neighbourhood Inspector
Dr James Fisher
New Access to Berry Hill Treatment Works
Green Bin last collection dates
Yeomans Road
Flooding Holdenhurst Village Road
Proposed Date - 27th June 2013
A
icon to view the agenda as printed by
Premier 32
.

Item 1 - A.G.M and Election of Officers
The following committee members were elected for 2013/14:
Chair
Deputy Chair
Treasurer
Secretary
Committee Member
Committee Member
Committee Member
Committee Member
Committee Member
Committee Member
Dominic Coleman
Ray O'Luby
Marion Oliver
(To Be Decided)
Les Deller
Chris Channell
Valerie Thomas
Geoff Thomas
Hilary Annicchiarico
Jean Kirk
Wendy Sharp, who has retired for health reasons, was thanked for her hard work and dedication as Secretary since the Forum's beginnings, the appreciation reciprocated by the meeting. The committee presented Wendy with a bouquet. Wendy told the meeting that everyone now has a voice with the Forum, to bring real weight behind local issues, and she hoped that the residents of this area will continue with their support.
Item 2 - Pupil Place Planning
• Cllr Nicola Greene - Cabinet Member for Education and Children's Services and Deputy Leader of the Council
Cllr Nicola Green, Cabinet member for Education and Children's Services, described the current state of schools provision within the town. The increased birth rate from 2005, plus parental preference, has required new thinking on policies.
Cllr Green referred to opening of the new Academy on Jewell Road, Townsend, and the other plans and options include:
Continued piecemeal expansion
More permanent expansion
More new schools/Academies/Pop up schools Expanding range of existing schools.
Cllr Green informed meeting that Bournemouth's Education Services are open to bright ideas from the public.
(Power Point presentation in numbered boxes)
2. Cycle of Pupil Place Planning
Live births - an early indicator
Jan 2012 GP registrations of 0 - 4 year olds.
Validated by:
February 2012 - Annual School Census
April 2012 - Offers made for Reception 2012
November 2012 - Cabinet paper for consultation on admissions for Sept 2014
Jan - Feb 2013 - Consultation period
March 2013 - Cabinet paper for final proposals
April 2013 - Final proposals are published
September 2013 - Applications open ....
4. Bournemouth Live Births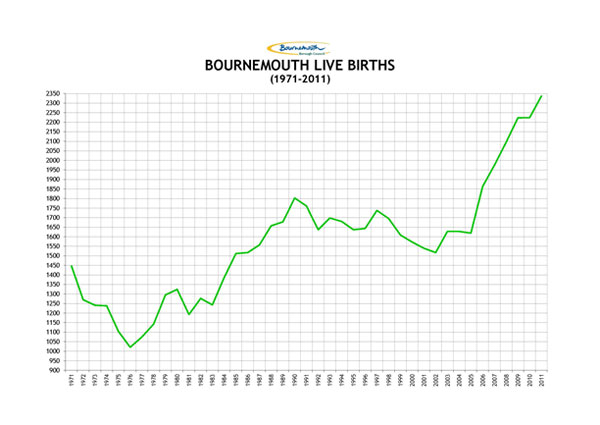 5. Where we are now
Three permanent expansions
One new academy
A series of temporary expansions across the borough, varying from one to three years, using a mixture of existing, temporary and permanent new buildings.
However...
6. Bournemouth Primary Reception Year Trend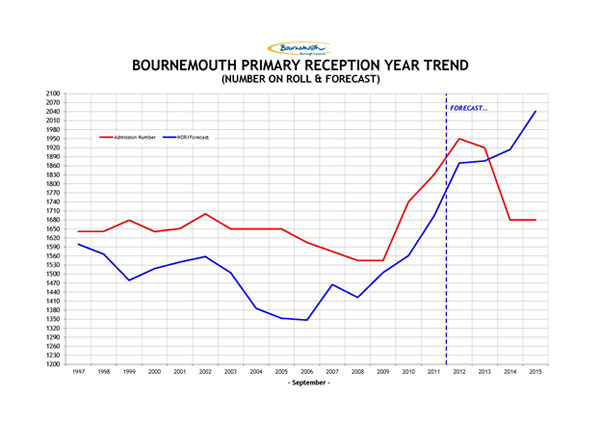 7. Other Issues
Parental preference - leads to uneven spread of vacancies
Availability of the school estate - age, suitability and geographic spread
8.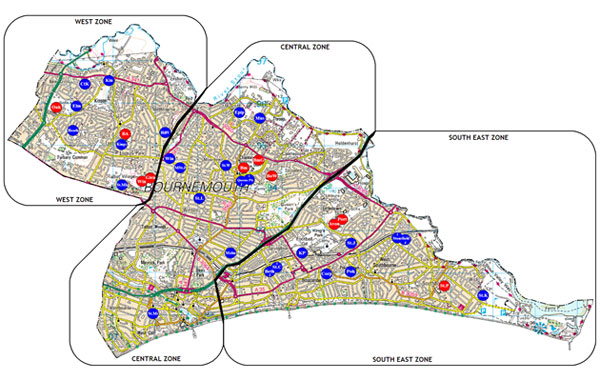 9. Special Educational Needs (SEN)
As the general school population grows so does the number of children with a high level of SEN
Our Special Schools are full, leading to high cost out of borough placements
Rising number of children with Autistic Spectrum Disorder
10. Our Options
Continue piecemeal expansions on an ad hoc basis (limited scope)
More permanent expansions
New schools/academies
Expand age range of existing schools/academies
Programme Board established to investigate possibilities and bring forward proposals
Question 1:
Why did you close Townsend School?
Answer:
The school failed to deliver adequate level of education, struggling for many years.
Question 2:
How will the new school improve on the past record?
Answer:
The Academy Group was pre-selected for their education vision. They have a successful track record, e.g. in Banbury. The group were extensively grilled at the interview.
Question 3:
When will it open?
Answer:
Sept 2013, with building work continuing.
Question 4:
Have you looked into immigration numbers into Bournemouth?
Answer:
Most pupils born in Bournemouth, but there is always immigration and emigration.
Question 5:
Are more coming in than going out?
Answer:
There is always movement, "I am an incomer myself."
Question 6:
Where are the pupils living?
Answer:
Parents can select from 3 schools. It is not known where they come from.
Question 7:
Where is the new school?
Answer:
Same site as Townsend School, now named Jewell Academy.
Item 3 - Local Policing
• Inspector Mike Claxton - Bournemouth North, Neighbourhood Inspector
Inspector Mike Claxton presented talk with slides on policing within North Bournemouth Area. The area has approx. 130, 000 people.
(Power Point presentation in numbered boxes)
1.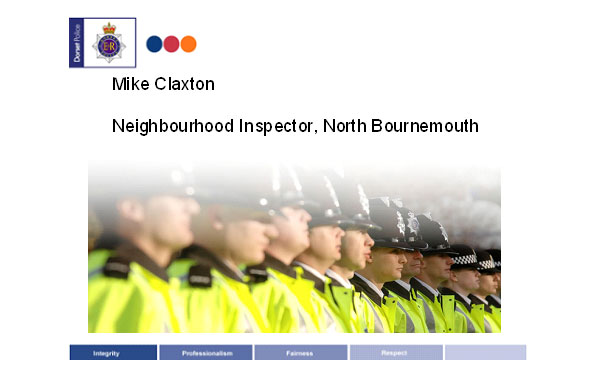 2.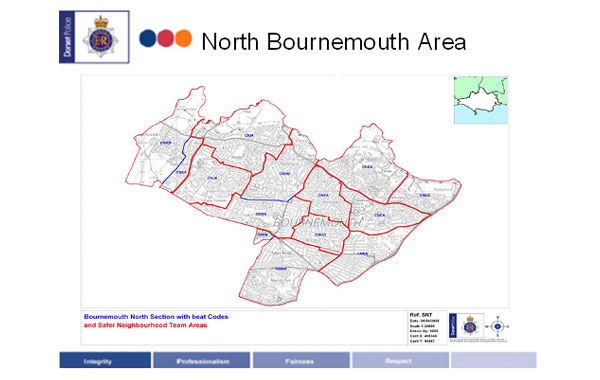 3.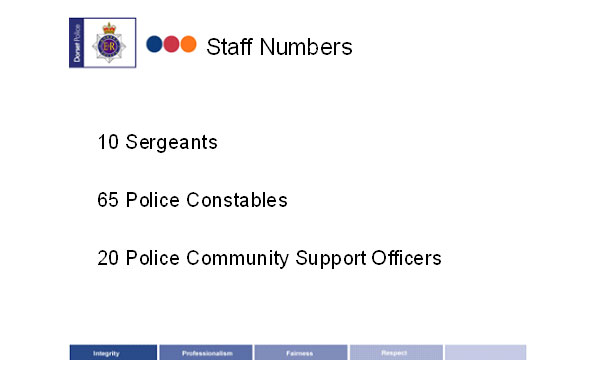 We are also well represented by the PCSOs in this area.
4.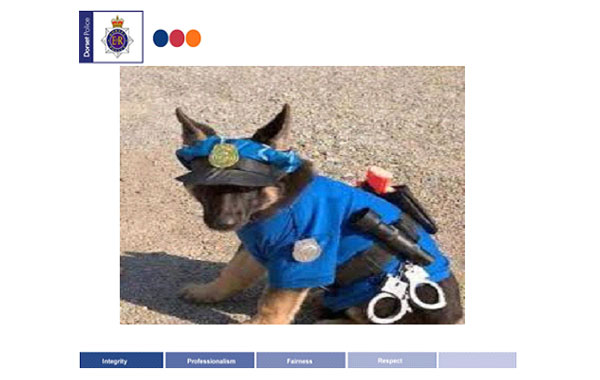 Just for fun.
5.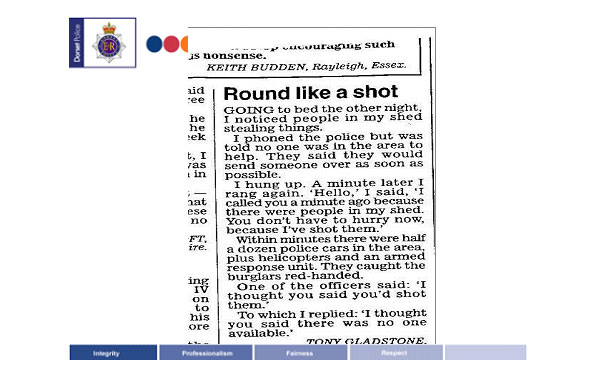 Police response has to be on a priority basis, but crime figures are comparatively low.
6.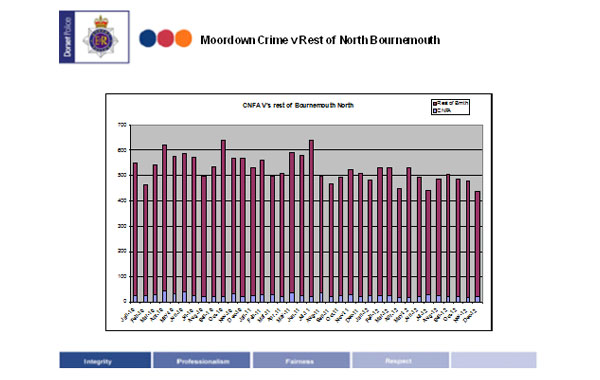 7.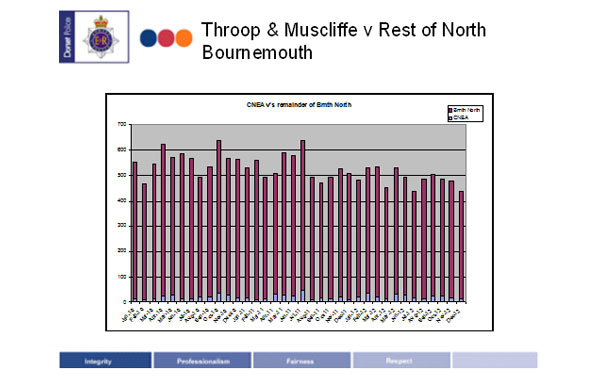 8.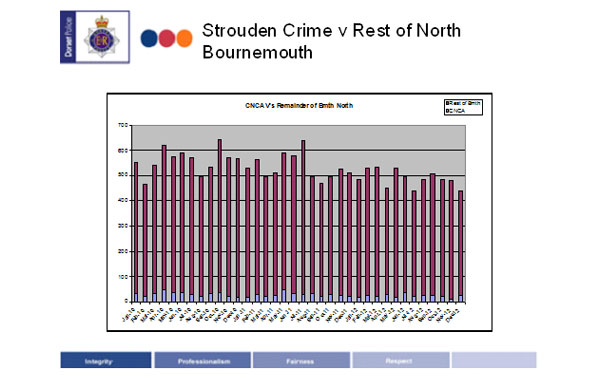 9.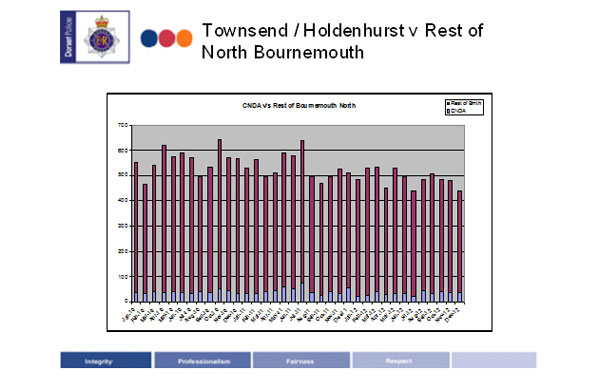 10.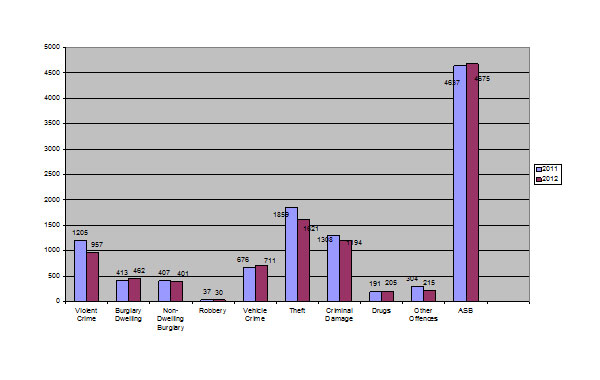 Robbery offences - very small. Vehicle crime - slight increase. Anti-Social Behaviour is a problem being addressed with co-operation of relevant local agencies.
Tobias Ellwood M.P. asked if any of the incidents involved more than one crime and was therefore included twice or more in the figures. Inspector Claxton confirmed this is not the case and that the primary crime is listed.
11.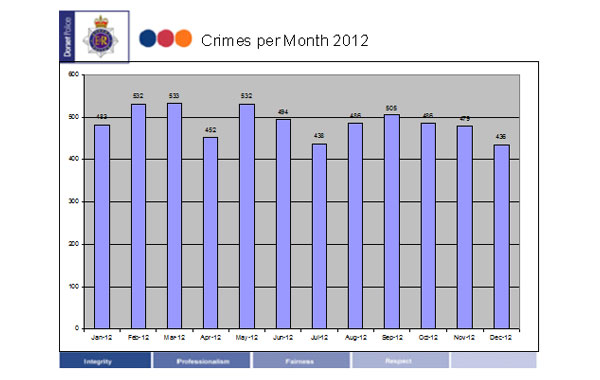 12.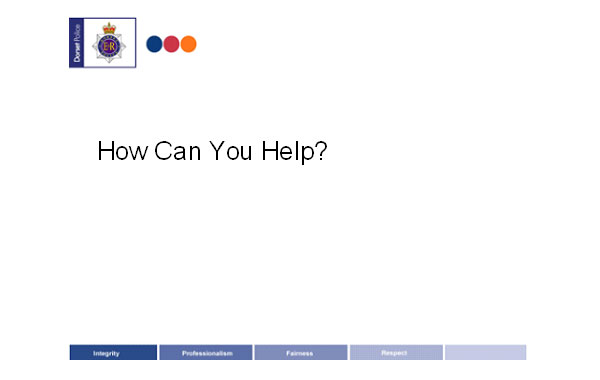 Inspector Claxton gave several suggestions on how public can Beat The Burglar, with simple precautions.
13.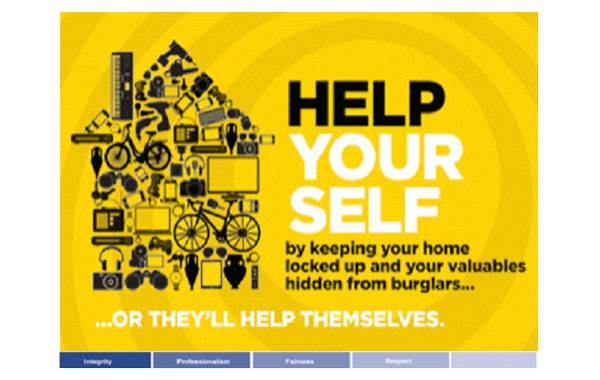 14.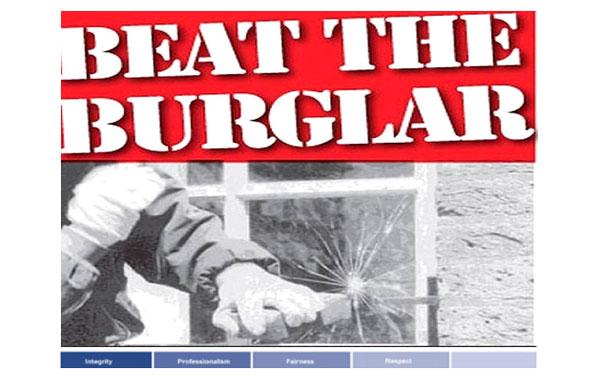 15.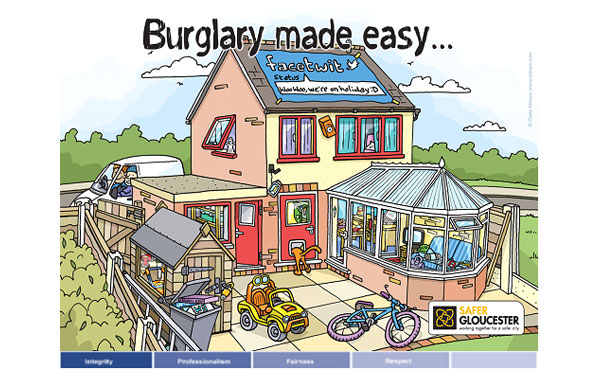 16.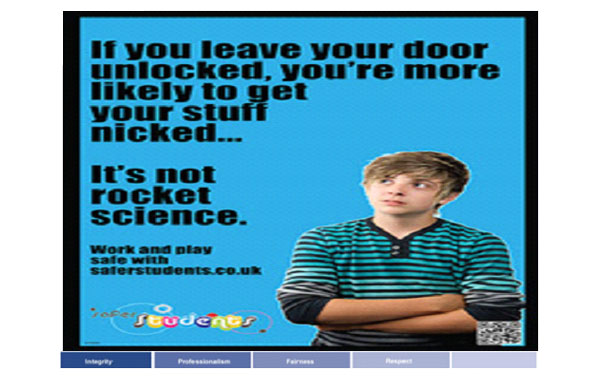 17.
18.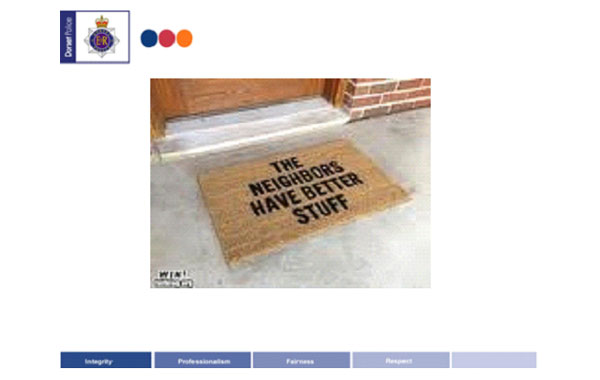 19.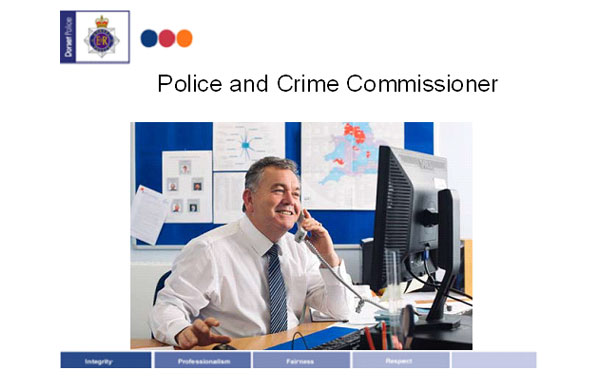 Inspector Claxton apologised for the absence of Police Commissioner, Martin Underhill, who has 'a lot on his plate'. The Commissioner is booked to attend the Forum's October meeting, and his pledges can be seen on his website.
20.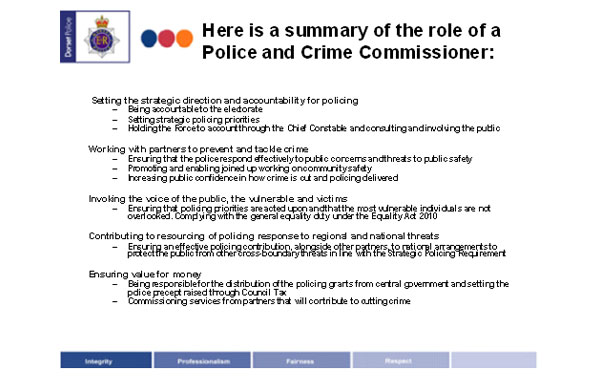 21.
Inspector Claxton's key priorities are as below:-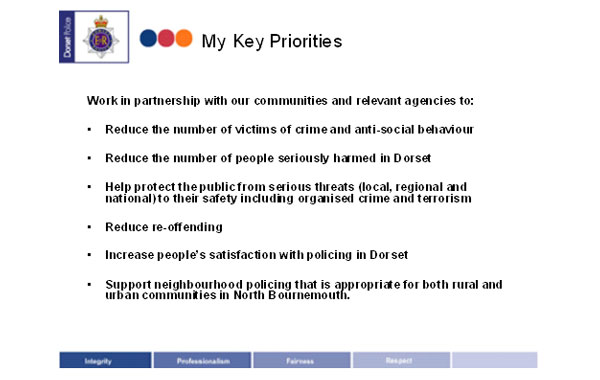 Question 1:
When person is on bail are they banned from the area of the crime?
Answer:
It depends on the case, each case has different conditions.
Question 2:
How soon will police arrive after a burglary?
Answer:
Police will come as quick as they can. If burglar is still there, it's a priority.
Cllr John Adams - Any ideas from the public will be welcomed by the Police Commissioner and local Councillors.
Item 4 - Shorts
• Dr James Fisher
Cllr Ron Whittaker spoke about a tribute to the late, locally well-known and respected Dr James Fisher. Ideas included a Blue Plaque either at his Throop Cottage home, Throop Mill, or at the Doctor's previous surgery. Other suggestions will be looked at.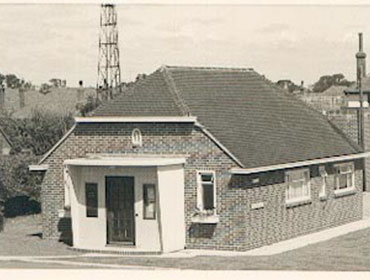 • New Access to Berry Hill Treatment Works
Wessex Water has applied for Planning permission to build a new bridge over the River Stour and access road from Berry Hill Sludge Treatment Centre to Parley Lane, which will alleviate the movement of tankers along Broadway Lane.
The access road will be private for Wessex Water vehicles only with the access gate at Parley Lane operated by a lift barrier.
Bournemouth Borough Council has requested that thought was made to the provision of a footpath / cycleway across the River Stour. The design of this has been considered and the proposals allow for a future footpath bridge to be installed by Bournemouth Borough Council. The embankments also include for this future provision, but all this is subject to securing funding in the future.
Cllr Ron Whittaker informed the meeting that a new bridge from the Parley side of the Stour is to be constructed to alleviate heavy lorry deliveries along Broadway Lane. A cycle lane with footpath is also being considered, but meeting objections from Christchurch Council, which claims possible loss of Green Belt land.
If, after 4 years, plans are rejected, Cllr Whittaker will support calls for a Public Inquiry.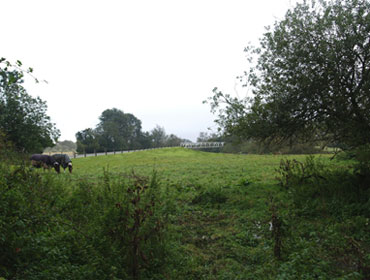 • Green Bin last collection dates
Bournemouth Green Waste Scheme
Bournemouth Borough Council operates an 'opt in' Green Waste Scheme. The 2013 scheme will run from April 8 - November 29. Also green waste can be taken to Kings Park Green Waste Bring Site (accessed from Holdenhurst Road) on Sundays from April-November between 9am-1pm.
For those who joined the waiting list before 24 December 2012, you will receive a letter in late January/early February to let you know you are being included in the 2013 scheme. Existing users of the scheme are automatically included unless you actively choose to opt out.
We are currently delivering confirmation letters and bins to all customers new to the 2013 scheme. Collection calendars will be distributed to all customers in time for the start of the new scheme on April 8.
To register or to find out more: You can register your interest in the scheme for 2014 by phoning Customer Services on 01202 451199 or by emailing the Recycling team. Existing registrations carry over to next year
New registrants will be notified in January as to whether they have been added to the scheme
Alternatively you can now order a home composter online at a discounted price from the Dorset Reduction and Recycling Group or by phone on 0844 571 4444.
Bins must be on the road by 5am on the day of collection. Bins are a standard size of 140 litres, any excess waste can be taken to Millhams or Kings park at the times above It is recommended that your number your bin to your property, the bin becomes your property and any replacements are charged at £38 plus £10 delivery
Cllr Michael Weinhonig stated that there will be one extra month for green waste collection during 2013/14, but there were not the resources for a full year. Green waste can be delivered to Kings Park Garden Centre on Sundays.
• Proposed Closure of Yeomans Road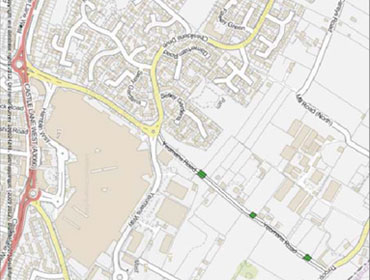 At present, Yeomans Road is classified as a Byway Open to All Traffic (B.O.A.T) and its gravel surface is being badly damaged by an excess amount of heavy vehicle traffic.
The huge resulting pot holes are making access for Residents extremely difficult and a wheelchair user is virtually marooned as his taxi refuses to risk using the road.
It is therefore proposed to shut off Yeomans Road apart from access and residents have been invited to say where this should happen.
Cllr Anne Rey spoke on the difficulties concerning the poor state of Yeomans Road. This unmade private road is also used by speeding traffic to avoid traffic lights on Castle Lane. Cllr Rey stated that it is a difficult problem, but consultation is proceeding with the Council's Rights of Way Officer, Sophia O'Sullivan.
Question:
How many tenants are there?
Answer:
There are 18 houses.
Question:
Can the road be closed to lorries or light vehicles by barriers, the keys to be held by residents?
Answer:
Throop Road exit/entrance needs to be shut. Meeting with officers to be arranged.
Question:
Who does the road belong to?
Answer:
Yeomans Road is a BOAT road (Byway Open to All Traffic).
Question:
Can it be restricted to small lorries?
Answer:
Difficult, due to the local caravan park. All proposals will be presented to the Rights Of Way Officer.
• Flooding in Holdenhurst Village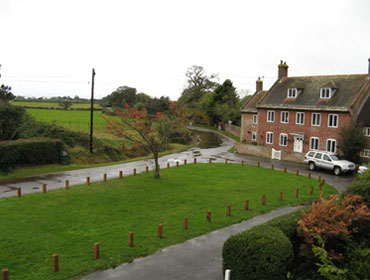 This December and January, Holdenhurst Village was particularly affected by flooding in several places, blocking the only road leading to and from the Village. This road is also a main cycleway and part of the Stour Valley Way for walkers and cyclists.
Forum Members in Holdenhurst Village are calling on the Council to address this matter as there is no alternative road and the floods hide potholes which have damaged vehicles. Walkers and cyclists have nowhere to go but through the water.
The Council did assist by "tankering" water away to prevent wash entering two homes, but Residents are calling for a permanent solution.
Cllr John Adams spoke as Chairman of the Flood Task Group Committee, which is aware of the situation.
He told the meeting that the complex problem is caused by the surrounding line of ditches. The committee is working with Wessex Water, and will report to the Chief Flooding Officer, Paul Ambrose.
Question:
Can the water be pushed elsewhere? Situation would not be allowed in town centre.
Answer:
Not easy, and flooded homes within the town have priority. Village might need a pumping station.
Statement: Can you contact Winchester Castle? Original charter for Holdenhurst Village ensured drains and ditches cleared twice a year.
• Bournemouth, Dorset and Poole Mineral Core Strategy - February 2013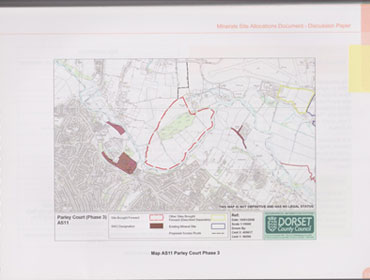 This matter has been going on since 2007, which some of you may recall from our past meetings.
Under the Government policy the 'National Planning Policy Framework' sets out the objectives relating to minerals, such as planning for a steady and adequate supply of aggregates. As a result Bournemouth, Dorset and Poole Councils have produced a mineral core strategy report, which is subject to independent examination currently expected to take place in May 2013. This report IS NOT SITE SPECIFIC but (I quote) 'sets out the vision, objectives, spatial strategy and policy framework for minerals development. It is considers the need to contribute to national, regional and local mineral requirements and seeks to balance these needs against social, environmental and economic considerations' (end quote).
Once a policy is adopted then it is probable that as happened in 2008 there will be 'a call of sites' where industry, landowners and agents are requested to put forward SPECIFIC SITES for consideration.
In 2008 Parley Court II was put forward for consideration (show plan). The key points to note about this proposed site, as stated in the consultation document, was that 150,000 tonnes of 'sharp' sand and gravel was expected to be extracted over 12 years requiring 64 lorry movements (32 in and out of the site) per day raising to 150 (75 in and out of the site) per day from year 4 onwards, so it was a significant proposed site.
As the current Mineral Core Strategy states (I quote) 'Minerals are a future resource available in certain locations and unlike most other forms of development, mineral extraction can only take place where the minerals occur' (end quote). So Parley Court II could well come forward again once a Mineral Core Strategy is adopted.
Therefore, this is a potentially important issue to our Forum area as although it is on the edge of our area it would have a significant effect on the residents of Muscliff who live near this site, such as Granby Road, with noise, loss of amenity and views for those who wish to enjoy the riverside and wildlife. There is also great concern that as this area is floodplain, it could affect flooding in Hurn, Holdenhurst and Christchurch.
We will continue to monitor this issue and keep you informed of developments.
Cllr Ron Whittaker stated that Bournemouth Council and Cabinet have made objections, along with the Environmental Agency, to Dorset County Council and is confident that the plans will not go ahead. Details are on the Council Website.
• Traffic Problems East Way Schools
Hilary Annicchiarico described traffic congestion on surrounding roads of the East Way schools area, in particular on Chigwell Road.
Due to restrictions near the schools, motorists are parking on both sides of Chigwell Road. This is preventing traffic entering from Charminster Road being able to see vehicles coming from the other direction and are then unable to pass each other. H. Annicchiarico suggested a mirror attached to the telegraph pole on the Charminster Road corner might be a solution.
Cllr John Trickett replied that the safety of children entering the local schools was a priority, but acknowledged the restrictions have moved the parking problem to nearby roads. Cllr Trickett said that continuing increase in traffic volume means there is no easy solution, but options will be looked at, e.g. making Chigwell Road. one-way only.
Chigwell Road:-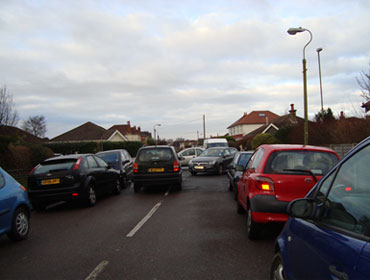 East Way:-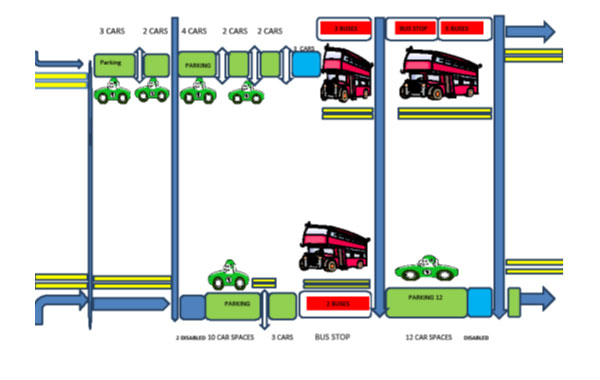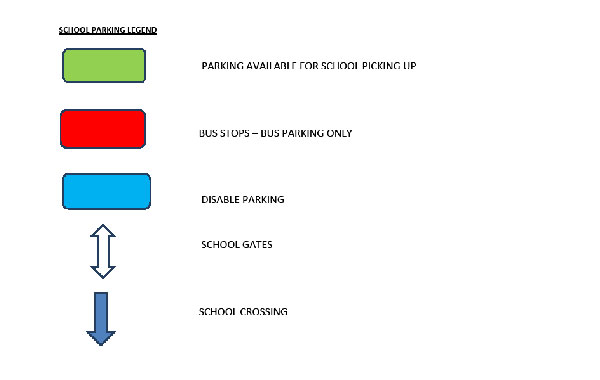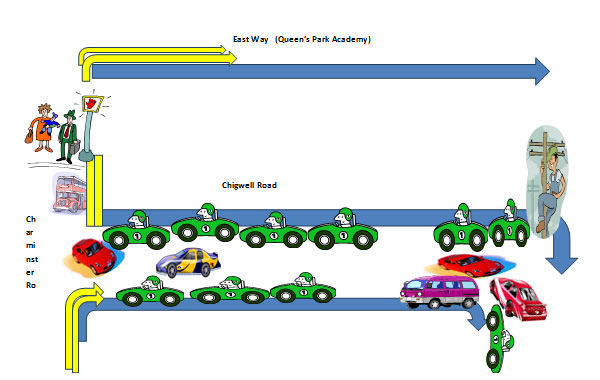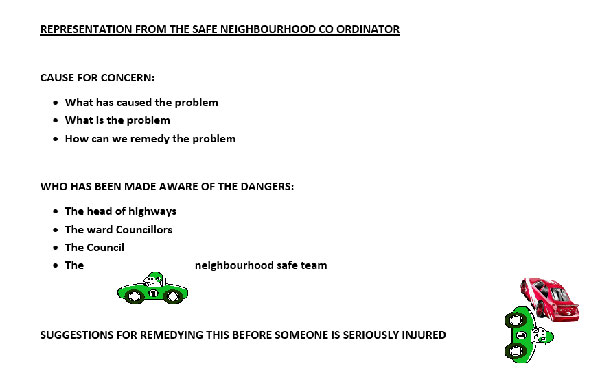 Question:
Could part of the woodland on East Way be used for student parking?
Answer:
Councillors did not believe the idea would be popular.
Question:
Shouldn't there be yellow markings at the bottom of Mallard Road?
Answer:
Cllr Weinhonig replied that the councillors would be looking at the current situation on these roads in the following week.
• Grit Bin at Piggeries Corner Muccleshell
In icy conditions, Piggeries Corner at Muccleshell, which is a right angled bend on a hill, is very dangerous.
This morning Forum Committee Member, Jean Kirk, met with Cllr Borthwick and an officer from Highways with regards to improving safety on that bend.
It was agreed that a grit bin will be installed on the corner, with a telephone number on the side for people to ring in and request the grit be spread and the yellow road lines and white lines on the speed humps will be repainted.
It was also agreed to generally smarten up the area with a road sign for Berry Lane and an engineer will look at the drains and soak-aways, where the road tends to flood. Muscliffe Lane will also be given a make-over with renewed line markings, etc. Careys Lane will be given a new road sign on the Broadway Lane side and the broken wooden signpost at the Mill will be replaced.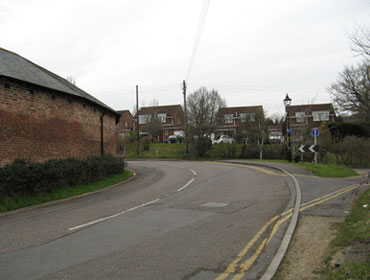 • Fairtrade Town Status for Bournemouth

The Council is working to achieve Fairtrade Town status for Bournemouth in 2013. A stand showcasing the campaign was set up outside the hall, but the Officer spearheading the campaign was unable to address Forum due to till-health.
Item 5 - Residents Question Time
Question 1:
What are the restrictions for double/single yellow road markings - there are no details along the 4b bus route?
Answer:
Inspector M Claxton: Nothing has changed. Double yellow means no stopping, single yellow - certain times only. Exemptions for loading and unloading and Blue badges.
Question 2:
What is the council going to do about the Government's recent cuts in benefits?
Answer:
Chairman acknowledged the genuine concern, but reminded the meeting that the Forum cannot deal with national political issues.
Item 6 - Any Other Business
MUSCLIFF FUN DAY
Cllr Anne Rey informed meeting that the annual Muscliff Fun Day will take place on July 28 - all welcome.
Item 7 - Proposed Date of Next Forum Meeting
• 27th June 2013