Where next for our Green Belt, Housing and Employment since the Abolition of Regional Strategies
Phil Robinson, Planning Policy, Conservation and Design Officer, Bournemouth Borough Council
An Address by Cllr Peter Charon Leader of Bournemouth Council
Key issues over the coming months
Updates from previous meetings
Troika Office Development - Renewal of Planning Permission
Castle Lane Traffic Lights
Date of Next Forum Meeting - 24th February 2011

Item 1 - Where next for our Green Belt, Housing and Employment since the Abolition of Regional Strategies
• Phil Robinson, Planning Policy, Conservation and Design Officer, Bournemouth Borough Council
Phil Robinson gave a brief recap on the history of the South West Regional Spatial Strategy: - (Power Point presentation in blue)
Timeline:
Draft Regional Spatial Strategy
South West Regional Assembly June 2006
Examination in Public
April - July 2007
Panel Report December 2007
Secretary of State's Draft Revised Regional Spatial Strategy for the South West Consultation July to October 2008
2 years ago the RSS was in an advanced consultation period. Forum was most concerned about the possibility of being forced to allow 1,500 new homes in the Green Belt, with a lack of infrastructure, etc.
Secretary of State's Draft Revised Regional Spatial Strategy for the South West
Main Issues:
Housing
Green Belt
Gypsy and Traveller Provision
Transport and Infrastructure
Town Centre
Figures for proposed Housing were as follows:
Housing
Draft Regional Spatial Strategy
June 2006
13,600 - 15,600 (680 - 780 dwellings per annum)
Panel Report December 2007
16,100 dwellings (805 dwellings per annum) to include 1,500 in Bournemouth Urban Extension
Secretary of State's Draft Revised RSS 2008
16,100 dwellings (805 dwellings per annum) to include 1,500 new homes … to the north of Bournemouth
As can be seen, although the draft RSS put together by Councillors excluded the Green Belt, the (Government) Panel confirmed the 1,500 proposed houses:
Green Belt
Draft Regional Spatial Strategy
June 2006
No release of green belt in Bournemouth
Panel Report December 2007
1,500 dwellings within Bournemouth Urban Extension
Secretary of State's Draft Revised RSS 2008
1,500 dwellings at area… to the north of Bournemouth
Also, the proposed Gypsy and Traveller provision number of pitches increased as the process went along:
Gypsy and Traveller provision
Draft Regional Spatial Strategy
June 2006
13 permanent and 12 transit pitches
Panel Report December 2007
28 permanent and 12 transit pitches
Secretary of State's Draft Revised RSS 2008
28 permanent and 12 transit pitches together with a requirement for this figure to be increased by 3% each year
Borough Council response to consultation
additional housing proposed in the Green Belt around South East Dorset, .... and, indeed, any additional housing proposed for which there is no clear evidence of need and deliverability is totally unacceptable
objects in the strongest possible manner to the complete lack of commitment to any infrastructure whatsoever to support the suggested housing and considers that, without such infrastructure, the urban extensions ... are no longer deliverable
Will seek Barrister's Opinion about the likely success of an application for Judicial Review of the Secretary of State's proposals.
Bournemouth Borough Council's response was that they were not happy with the Green Belt situation, nor the arguments for any additional housing above those recommended by the Council. Plans were made to join with Poole and Dorset Councils to mount a possible legal challenge and a Consortium was formed with many local organisations, including Forum to fight the proposals. A letter was received from the Government Office for the South West, stating the draft could be used as a material consideration for any planning applications, if any came in.
What happened next 2008 - May 2010
- Publicly very little!!
- A number of issue dates for the final RSS were announced and then passed
- A successful High Court Challenge to another RSS required more technical work to be undertaken by the SW Regional Assembly this was never completed
- Officers locally prepared our case for the Legal Challenge
- '...the RSS has reached such an advanced stage that we would expect it now to be given considerable weight in consideration of any application for development'
Many dates for the final document were issued, but nothing happened and the East of England challenged their Spatial Strategy in the High Court and won on the grounds the Secretary of State had changed the document without considering the environmental impact.
What happened? - the General Election, 6th May 2010. On May 27th, Eric Pickles, the new Secretary of State for communities and Local Government, stated he intended to abolish regional Spatial Strategies and return decision making to Local Councils. The Regional Spatial Strategy was revoked and through Local Plans, we can decide. We are now free to protect the Green belt.
(letter from Eric Pickles reproduced below)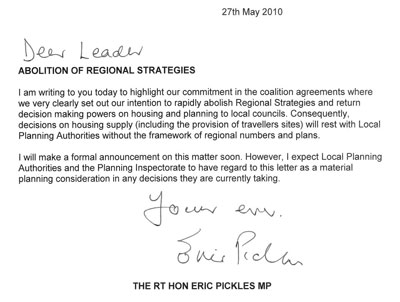 Parliamentary Statement by Secretary of State for the Department of Communities and Local Government Eric Pickles July 6th
'A statement laid in parliament today will revoke Regional Strategies with immediate effect. Councils will now have the freedom to prepare their local plans without having to follow top-down targets....that prescribe exactly what, where and when to build.'
'Councils will now be free to protect Green Belt surrounding 30 towns across the country..... Communities will now have the power to prevent encroachment on the Green Belt and decide themselves where they want to build.'
'The abolition of Regional Strategies will provide a clear signal of the importance attached to..... Local Development Framework Core Strategies and other Development Plan Documents'.
How will this happen? Through the Local Development Framework (Local Plan) we now have the powers ourselves.
Gypsy and Traveller provision - 3 statements have been made. There are no regional targets and we can make decisions with regard to the numbers accommodated. This is seen as a positive move to improve relations between Gypsies and Travellers and locals. As before, if a site is provided and refused, we would have the power to move people on.
Parliamentary statements by Andrew Stunell OBE MP Parliamentary Under Secretary of State July 26th and October 11th and the Secretary of State on August 29th relating to Gypsy and Traveller provision
'Since regional strategies have been revoked, the level of pitch provision should now be determined locally. We intend to replace this circular with new light-touch guidance as part of a broader package of reforms to ensure fair play in the planning system'
'.....we will be introducing new planning guidance and reformed planning laws later this year'.
'The changes come as part of the new Government's plan to improve community relations between travellers and the settled community, which has already seen councils freed from the top-down Regional Strategies and the associated building targets; which now means that councils can decide for themselves how many traveller pitches are necessary in their area according to local need and historic demand.'
'And at the same time, ... looking at ways to strengthen the powers available to councils to more effectively tackle unauthorised developments and unscrupulous private developers.'
However, in May 2010 - Cala house builders decided to challenge the Secretary of State regarding the proposed 2,000 new dwellings in Winchester, on the grounds the Secretary of State has made a decision without consultation. The High court case was heard last Friday and the decision will be important.
(Note: Any information on this decision will be posted on the Forum website)
If the High Court decides against the Secretary of State, saying he overstepped the mark and did not have the powers to act as he did, the new Planning Act and Localism Bill (currently anticipated in November 2010) can give him these powers, i.e. it is therefore a short term setback.
What happens next October 2010 - ...?
The Bournemouth Plan (Core Strategy) due for public consultation Spring 2011
This will set the boundaries of the Green Belt. There has always been cross-party support to keep the boundaries. It will also set Housing and Employment figures, etc. and Forum Members are urged to participate in the consultation and write in. With the abolition of the Regional Spatial Strategy, all advice has gone so the Council must go back to decide the figures.
There will be a round of public consultation on the draft Preferred Strategy for the South East Dorset Transport Study and the Local Transport Plan 3 Strategy in Jan – end Feb 2011 with the final Local Transport Plan 3 adopted before the end of March'
The Echo's recent article stating that these Park and Ride are being dropped is misleading. Forum Vice-Chair Ray O'Luby represented Forum at the Core Strategy and Cabinet meeting and at this point, specific references to Riverside Avenue and Whitelegg Way have been removed from the Town Centre Area Action Plan, but not others. Park and Ride sites will be up for consultation in the Preferred Strategy of LTP3 in January and February next year. It will state if they are needed, how many and where, at which point there is an opportunity to challenge.
Research into the number of Gypsy and Traveller pitches required is currently being undertaken. Issues and preferred options should be out for consultation in June 2011
The Council is carrying out its own research and working with Poole and Dorset Councils. Consultation will be in June/July 2011.
We know where the coalition Government is going - "in the right direction," but we don't know exactly what form it will take. All concern raised at Regional Level is gone and if the High Court puts it back in, it will be temporary. It is now in the politician's hands.
Question 1:
Brown Water usage. Water rates have grown and the Council has a Green Strategy to be enforced in all new building. Will the Council use a Brown Water strategy?
Answer:
We don't know - details are not ready yet. We already have some policies in place, e.g. SUDS and new innovative strategies will have to be considered in the longer term. The Residential Design Guide is to be addressed and all will be considered, e.g. size, waste disposal, brown water, etc.
Question 2:
Castle Lane "Relief" Road - has not been built in 35 years and the planned Western end to Northbourne floods. If this end was not to be built, it would dump all the traffic back on to Castle Lane. Our fear is that as long as the reservation remains in the LDF (Local Plan) developers may use it as a material consideration and attempt to build along its length in the Green Belt.
Answer:
A major study - the South East Dorset Transport Study, examining transport flows in the area, is underway and will go into a lot of detail, e.g. would the Castle Lane Relief Road do any good? If it stays in, it will have evidence of how and why it will work. The "double bridging" of the flood plain is a cost issue and an awful lot of money. The Study, which should be released in January/February 2011, will consider if there is any advantage of a big "cul-de-sac," ending at Muscliff Lane and should give definitive answers. As far as any ramifications for the Green Belt goes - No. The Core Strategy will reaffirm the Green Belt and land in Green Belt is not released for development.
Item 2 - An Address by Cllr Peter Charon Leader of Bournemouth Council
• Key issues over the coming months
Gypsy and traveller sites - a lot has moved on. We do not think we have any sites, but Dorset may have and if the legislation changes we could use these, with powers to move unauthorised encampments on. There are no plans whatsoever within Bournemouth Borough Council.
Key Issues:
Government Cuts. Local Government took the biggest cuts, worse than predicted. We expected 25% over 5 years, but the figure is 27%, which will be front-loaded with 8 - 9% in the first year. 8% means a £4 million cut in the grant from Government, which is a huge challenge.
Bournemouth is better placed than most as we started early through Overview and Scrutiny Panels. A tough exercise in October and January found £8 million per annum this year and next year + £6 million out of budgets with no deterioration in service. Now we need to find another £5 million, which is very challenging and we are working on this every day.
The good news is that Government honoured the pledged £2 million to subsidise council tax, which will not rise next year, but there are no guarantees after. We will always keep it as low as possible. Conversely, the challenges are real. There will be possible jobs lost from the public sector and we will have redundancies, but kept to a minimum, through natural wastage. These will include high paying jobs.
Cuts with protecting front line services.
(i) There are proposals to outsource Revenue and Benefits, I.T. and Facilities Management, with Mouchel, which will go to Panel on 8th November and Cabinet and Council on 10th November to 1st December. We will not see any frontline service changed and the changeover will be seamless.
(ii) We are looking at a new jobs hub in Bournemouth and may be able to do "back stage" stuff possibly with other Councils "Shaping Success."
Community Centre Bradpole Road
Good news - the Council will press ahead with this ASAP, using Capital expenditure (rather than Revenue). £1/2 million will come from the Homes and Community Agency and the Council will provide the rest. The recent Mallard Road development delivered Council housing for the first time in 8 years. Bradpole Road will deliver houses and bungalows, no flats.
Today, the Government Agency said it has no surplus money, but it may have by the end of the year. We will hold fire to try and get £600,000 from them, but will be looking at underspends and if necessary, will go ahead anyway with the £1.9 to £2 million scheme. We have been waiting long enough and the Council will start to deliver the scheme early next year. People using the Community Centre need to start planning to find temporary spaces for their users.
Question 1:
Town Centre Vision. 2 1/2 years ago, there was a meeting within the 2026 concept and £1/2 million has been spent. The main worry is that businesses paying less than £7 thousand business rates per annum were exempt from a 7% levy to pay for the Town Centre Vision, but now business rates have doubled, so most local businesses outside the area will be charged.
Answer:
Cllr Charon will look into this - he has not heard of this levy. The Master Vision is in a procurement stage and partnerships are being sought.
Question 1 (a):
Today, Vince Cable (Business Secretary) announced plans that would enable all business rates collected by local government to say within it. Is the Council going to bid for this? How much will stay?
Answer:
No idea. Business rates do not stay in Bournemouth, they go to Central Government and we get a general grant. Area based grants are un-ring fenced, so we must look at all the budgets.
Local Enterprise Partnership - Bournemouth, Poole and Dorset County Councils, along with private enterprises, Education - universities, etc. The Government is abolishing Regional strategies in favour of these, but when the LEP was put in there was a clear indication it was not big enough. We are therefore looking at what else we may be able to do and we may go in the Portsmouth and Southampton, but this is not approved. We can carry on to become bigger in scale and with a £1.6 billion Regional Growth Fund on offer, we need a seat at the table, e.g. for roads, education, etc. We will continue to talk to our neighbours.
Question 1 (b):
If the business rates stay in Bournemouth, will the Council discuss with local businesses to ensure we grow?
Answer:
Yes, of course.
Question 2:
Is the figure of £1.82 million to pay for both the developments in Bradpole Road and Craigmoor Avenue.
Answer:
Yes.
Question 3:
Which pot of money did the gardening around the new development in Mallard Road come from? Peopled were previously grateful just for a house and hopefully this money did not come from the pot for elderly, etc - it is a waste of taxpayers' money.
Also, why is the BIC lying empty in the day - this is Bournemouth's flagship? Coffee is £3 a cup.
Answer 3a:
Bournemouth's Housing Department is within the Council and delivers a very high standard of housing, way above the rest of the country. The Mallard Road development is great. Over recent years, Bournemouth has torn down 3 and 4 bedroom houses. We have to look at best use - there may only be one person in a 4 bedroom house. With 10,000 people on the waiting list we have to try. Even with the latest cuts, Central Government is looking for money for 150,000 new homes. Our Housing Landlord Services are the best in the country, but we do not have big tracts of land.
Answer 3b:
The BIC must stand on its own two feet. Recent major changes mean all leisure centres are separated from the Council and BHLive has a turn over of £30million per annum. Peter Gunn is the Director of BHLive and Cllr Charon will take the feedback to him.
Question 4:
Is the outsourcing of (the Council's) I.T. Department a mistake as our own I.T. staff are experienced and it runs smoothly?
Answer:
The Council has not had enough money to invest in the past; we now need £6 million and do not have the money. There is a need to continually refresh equipment and we recently had to spend £30,000. We need to work in "cloud" technology. Not everyone is in agreement - we must look at the business case.
Comment: Cllr Ron Whittaker. The "Shaping Success" programme will not have an easy ride in Council. Cllr Ben Grower has put forward a number of questions and cannot get answers to these. It is not straight forward - staff were not allowed to get involved and they wanted to make proposals of their own. Cllr Whittaker is hoping the council will listen.
Comment: Forum Chair. People in this Forum are interested in the Town Centre, not just in their immediate local area.
Item 3 - Updates from previous meetings
• Troika Office Development - Renewal of Planning Permission.
Deputy Chair, Ray O'Luby, addressed the following recent council meetings which were considering issues relating to Troika Developments at Riverside Avenue: 1. Planning Board 20 September; 2. Local Development Framework Steering Group 04 October; and Cabinet 13 October, conclusions of the meetings being as follow:
Planning Board 20 September
To renew plans by Troika for offices to the rear of Bournemouth Hospital. However, regarding a high level junction proposed at the Ringwood Spur Road to service the offices and an adjacent park and ride site proposed by Troika in the adjacent green belt and floodplain, the Planning Board agreed that a new planning condition be applied requiring that the development "phasing will be such that the new junction from the A338 will be completed in full prior to the commencement of the works on the park and ride and B1 (offices) elements of the development". This is a much stronger planning condition than a previous one which would have allowed construction of the offices and park and ride to take place in advance of construction of the junction, forcing all construction traffic on to Castle Lane.
The plans for the high level junction, which, with the park and ride site, is due for renewal in less that two years time, would badly affect homes at Townsend and Holdenhurst, and also the Retired Nurses Home at Riverside Avenue, and Bournemouth Hospital. However, the offices, park and ride and junction are unlikely to be built in the present economic climate, especially as the new planning condition means that the high cost outlay for the junction is now required in advance of one brick or area of tarmac being laid and because of the present glut of empty offices, including a large empty office block at the Lansdowne also belonging to Troika.
2. The Local Development Framework Steering Group at their meeting of 04 October 2010, discussed the Bournemouth Town Centre Area Action Plan Preferred Options, ahead of Public Consultation on the Action Plan due to take place in November/December 2010, and a number of changes were recommended to Cabinet including that, although the principle of park and ride remained, the names of proposed park and ride sites at Riverside Avenue and Whitelegg Way should be removed from the Action Plan, as there was no certainty of these being built.
3. The Cabinet at their meeting of 13 November 2010, voted in agreement with the recommendations of the Local Development Framework Steering Group, after which the Town Centre Area Action Plan Preferred Options goes out for Public Consultation in November/December 2010.
Bournemouth Town Centre Area Action Plan, Preferred Options Consultation, November 2010
Ray O'Luby, deputy chair of TMSTH Area Forum addressed the Bournemouth Council Cabinet 13 October 2010, objecting to aspects of the Action Plan regarding the proposed Park and Ride site
1.1. I object to the mention of a proposed Park and Ride site at Riverside Avenue, Bournemouth, as shown in Chapter 3.0, Page 22, Section 3.6, of the Bournemouth Town Centre Action Plan, noted in Item 10 (2) of today's Cabinet Agenda.
1.2. At the Local Development Framework Steering Group meeting of 4 October 2010, the Steering Group Recommendation, as shown in the Minutes, Page 4, Section 3.6, was to the effect that only the principle of Park and Ride be noted, and that proposed Park and Ride sites at Riverside Avenue and Whitelegg Way should not be named in the Bournemouth Town Centre Action Plan. And I request that the Cabinet vote, for the following reasons, to accept the Recommendation in the Minutes, which are noted in Item 9 of today's Cabinet Agenda.
1.3. Although consent by a Government Inspector exists for a Park and Ride site in the Green Belt and Flood Plain at Riverside Avenue, this is completely unacceptable, and I am asking for a commitment from all Bournemouth Councillors to challenge these plans at every opportunity, especially as the Planning Board are on record as saying that the decision was wrong.
1.4. The original Colin Buchanan Transport Assessment said that a Park and Ride site at Riverside Avenue could only be viable if the number of parking spaces in Bournemouth Town Centre were significantly decreased or, alternatively, if parking charges were significantly increased. However, as long as free parking is provided at Castlepoint Shopping Centre and superstores, taking such actions would seriously discriminate against traders in the Town Centre.
1.5. Therefore, the existing number of car parking spaces, and the existing very low parking charges in the Town Centre, are likely to remain, so that Park and Ride at Riverside Avenue would not be viable, as has already proved to be the case regarding a Park and Ride site constructed in the Poole Green Belt which soon ended in debt.
1.6. The proposed Park and Ride site and access roads are shown on the Environment Agency Flood Plain Map to be located within the extent of extreme flooding, which would mean that these developments could not be insured without construction of expensive flood defences, which would only add to flooding elsewhere.
1.7. Also regarding a proposed £multi million high level junction on the Ringwood Spur Road, without which the proposed Park and Ride site and adjacent proposed offices could not go ahead, as it is the case that the Secretary of State for Communities and Local Government has scrapped a previous requirement to build a large number of homes in the adjoining Green Belt, if the developer thought he could build housing in the Green Belt to fund the proposed junction, this is now very unlikely to happen.
1.8. The proposed high level junction would also result in excessive traffic noise at adjacent homes at Townsend and Holdenhurst, at the retired Nurses Home in Riverside Avenue, and at the Hospital.
1.9. The environmental conservation of the last remaining very narrow Green Belt at Riverside Avenue and Holdenhurst Village is essential, and the Council should ensure that both the proposed Park and Ride, and the proposed Castle Lane West Relief Road which is also reliant on the proposed high level junction, and would require the vast expense of several river crossings, are omitted from all forthcoming Bournemouth Plans.
1.10. Taking a proposed Park and Ride at Riverside Avenue, and a proposed Castle Lane West Relief Road forward from one century to the next in various documents, when neither is ever likely to be built, unfortunately, shows these documents to be just tired repetitions of all the others that have gone before.
For the reasons given, we request that you delete from the Town Centre Area Action Plan all mention of a proposed Park and Ride site at Riverside Avenue, in line with the Recommendation shown on Page 4, Section 3.6 of the Minutes of the Local Development Framework Steering Group, as noted in Item 9 of today's Cabinet Agenda.
Question 1:
The opposite side of Wessex Way will have an horrendous roundabout. Who owns the land - is it the council?
Answer:
Yes. Cllr Whittaker: Planning went through on appeal 4 years ago. If we refused to renew it this time, we would costs incurred against us. The elevated junction has to be built with the Park and Ride, the Inspector passed it. When it comes up, it can be reviewed again. For the Offices, there must be a junction and the Park and Ride (for Bournemouth). Ownership of property is not relevant in planning - you can request planning permission on your neighbour's garden if you wish.
Question 2:
Whitelegg Way - what are we doing to it?
Answer:
It is another possible site for a Park and Ride.
Castle Lane Traffic Lights
From: Michelle Fillingham IEng FIHE, Traffic Signal Design Engineer
Work is still ongoing at Castlepoint.
1. I have had the black slotted louvers removed from the amber signal aspects to emphasise the reds lights.
2. The 2 Dual Toucan crossings were dropped off the Urban Traffic Control (UTC) system outside the peak periods to improve pedestrian progression. During this trial period an intermittent fault was found on the detection at the Toucan outside the library. All the detection loops have been recut in the carriageway on that approach.
So far there appears to be no significant detriment to the main vehicle flow along the Caslte Lane West corridor outside Castlepoint however I did receive a complaint that there was insufficient time for a pedestrian to cross the road and a longer green man period was requested. This has been investigated on site with the signal maintenance contractor and the signals have been found to be more than generous. It is more the traffic moving off during the flashing amber period being the problem. This is being monitored as part of the trial.
3. Various timings have been tweaked (within the safety parameters) but no major changes to the control of the junctions have as yet been carried out, due primarily to budget constraints. Estimation of costs for this work is in the region of £20,000.00 which includes the installation of extra detection for Castlepoint as well as the design process to reconfigure all the junctions. This also includes an item for investigating possible bus priority through the network which Yellow Buses has requested.
I will keep you updated on any further changes that are carried out.
Comment from Forum Chair: - Much effort is being made to improve the flow along Castle Lane. Because we use it, we are in a good position to comment. If you have any suggestions, please contact Les Deller (ex Forum Chair) or Michelle Fillingham direct.
Cllr John Trickett stated that he had been liaising with Michelle Fillingham. When the lights were installed all around Castlepoint, they were below grade, i.e. not fit for purpose. They now cannot be made to fit due to huge expense. We are trying to do the best we can with what is there. The lights by the Library are difficult - please bear with her.
Spur Road and Cooper Dean lighting
A forum Member asked:-
"During this period of austerity is it necessary to have the flood lights on the spur road 24 hours a day?"
Cllr Shaw ascertained that new control equipment has been installed into the highmast units, which will enable light levels to be adjusted according to traffic flows. Two light fittings that are currently not responding to commands will be corrected as soon as possible. They will be carrying out some traffic flow counts and will be using these to make adjustments to the light levels used at the cooper dean junction.
Further to this, Cllr Weinhonig took photographs of lighting at the Cooper Dean junction and subsequently, at full council, he asked the question:-
"What is this Council prepared to do to reduce light pollution across the borough and in particular on Wessex Way around the Cooper Dean Roundabout?"
Response to Cllr Michael Weinhonig:-
Information Supplied to Cabinet Member:
The Council is currently undertaking works on the Wessex Way starting with the highmast units e.g. the tall masts at Cooper-Dean and St. Paul's Roundabout, which will enable us to dim or turn off the lights at certain times. The preference is to dim at certain times when traffic flows fall, enabling us to dim but still comply with the recommended European standards. The scheme could be extended to the rest of the road lighting system on Wessex Way subject to funding and this is being explored.
There is an option to turn off alternative lights but this can cause significant problems to road users where the eye does not adapt properly to the large changes in light level. It would be far better to leave the lighting on at a reduced level or if the traffic flow falls to an insignificant level to switch off the lighting between junctions.
We are also, where allowed by changing legislation, replacing illuminated bollards and signs with reflective models. In addition, we are investigating reduction in light levels on certain roads in the town later in the night.
I have today e-mailed Councillor Mark Anderson, Chairman of the Environment and Transport Overview and Scrutiny Panel, to suggest that this whole subject be investigated by his Panel together with the advice of the Institution of Lighting Professionals.
Item 4 - Residents Question Time
Question 1:
Over the last 18 months, the Council will sell off 14 plots of land to fund the last Governments play scheme - Playbuilder. As from yesterday, £300 thousand has been put back in but not ring fenced. Will Councillors ensure it will be ring fenced?
Answer:
Cllr Rey: Playbuilder scheme in Muscliff was £87,000. Consultation went out 3 times and as a result, it was late and nothing was ordered. The coalition Government cancelled the funding and now there are 8 schemes left waiting. We will get round a table with Michael Rowland - Parks Department and look at sites and most needed areas. We may only be left with 4 items instead of 8, but this is better than nothing. Councillors will fight for money for Muscliff and Strouden. There are many areas in Bournemouth, e.g. Springbourne, who do not have as much green area as us. It was short-sighted of Government to take away money planned for 2 years. We will fight to ensure the money goes back to children's benefit. Cllr Whittaker added there is no talk of selling off any smaller play areas. Cllr Shaw also added that money was needed in Strouden.
Question 2:
Site of the old Seat garage on Broadway Lane/Castle Lane east. Will it be a Co-op?
Answer:
Cllr Borthwick: We do not know the details yet. We do not want another store selling alcohol. Cllr Rey: the last application was for a Co-op - Highways objected, but no residents. The main access was in and out on to Castle Lane. The Appeal Inspector turned it down as the Co-op wanted a crossing before the bus stop and it was therefore turned down. The new application requests an entrance in Broadway Lane with a 'left turn only' exit on to Castle lane. Historically, all convenience stores open with an alcohol license. Cllr Whittaker: Please write in. 10 signatures are needed to get it to the Planning board. If Highways approve it, pedestrian safety must be taken into consideration. It is a "change of use" to "A1". Once it gets an A1, they can ask for an alcohol license, but this does not come under Planning.
Question 3:
Southern Electric site on Broadway Lane has renewed its application for 30 houses, which would make more traffic problems
Answer:
Cllr Whittaker: This long outstanding application was approved by a Government Inspector in 1990, for 30 Social Housing units. Southern Electric would like to develop the whole site. We could not refuse the outline permission again as it was Inspector approved and we could face costs if we are unreasonable. Questioner is right about the traffic, particularly in view of the 40 sewage sludge lorries daily to Berry Hill. The School, Tankers and possible development are all Planning reasons to put forward against to the application for the Seat site and the PCSOs have met to discuss alcohol problems. Anna, Adam and Linda McGuire (Muscliff Safer Neighbourhood Team) were commended for their work and in particular the "Street Corner" meetings which are brilliant.
Question 4:
How much would the council save if it stopped giving free computer access to outsiders and gave local residents a card?
Answer:
If I.T. is outsourced, it will go under one banner and will be cheap. Many people cannot afford a computer and access must be available to them. Once Broadband is made available, it does not cost any more with additional use.
Question 5:
Russell Cotes Museum. Why not charge £1 to £2 to help cover running costs? It is a waste of money making the Imax into an art gallery; why not put a swimming pool on the ground floor with an ice rink above?
Answer:
All this will be properly discussed and every Councillor will put our points of view.
Question 6:
Could the back page of the Advertiser be used to ask "What needs doing in your area?"
Answer:
This has been asked before, but now so many questions go on the Echo website, the request is turned down.
Question 7:
Garden Waste Collection - could it be extended until all trees have lost their leaves, e.g. December?
Answer:
It will finish the 2nd week in November.
Item 5 - Any Other Business
1. Conor Niall has organised a 'Take Action' Event at Townsend Community Centre 11.45 to 13.45, Saturday, 30 October, in conjunction with the Civic Society, Forum, Townsend Together Team and Bournemouth Council Voluntary Service. All welcome at this Local Community Development meeting to find out how you could help your local community.
2. Jim Atkins - Sway Gardens - has started up the "Sway Family" group. He collected up e-mail addresses of everyone in the road and formed this neighbourhood group, organising outings, etc. Many people live alone in this area. Forum will invite him along to the February 24th Forum meeting.
3. Recycling. Cllr Trickett: From 1st November, we can now recycle drinks cartons - "Tetra-packs."
Item 6 - Date of Next Area Forum Meeting - 24th February 2011