Introduction to the Elected Ward Councillors
Neighbourhood Watch Schemes
Throop United Reformed Church and Manse
Corner Broadway Lane and Castle Lane West (233-235)
Troika Plans at Riverside Avenue
Date of Next Forum Meeting - 20th October 2011
A
icon to view the agenda as printed by
Premier 32
.

Item 1 - Updates
• Throop United Reform Church and Manse
Cllr Ron Whittaker gave the latest position on the listed buildings. Andy Williams (Council Conservation and Design Officer, Planning and Transport) is seeking enforcement with Wessex United Reform Church. The Manse, which has lain empty for 3 years, has been vandalised.
They have refused to do anything and it is now boarded up. Before Christmas, we were told it had tenants and that Bournemouth Independent Churches was interested. In February, Andy Williams again contacted them and they promised they would carry out the original proposals, but nothing has happened. Dennis Gritt sent an email saying that Bournemouth Independent Churches had been looking around. Slates to the rear of the Manse and lead flashing have been ripped off. This is very like the situation with Throop Mill, where Haygates never responded. Ron is confident the Church will be occupied.
There have been some rumours that there may be development to the rear of the Manse, but this is hearsay. Ron will update the situation as soon as he hears anything.
• Corner Broadway Lane and Castle Lane West (233-235)
Plans for 2 retail units (Pets at Home and a Co-op) were displayed on the notice board and on the overhead projector. Work has started on the project.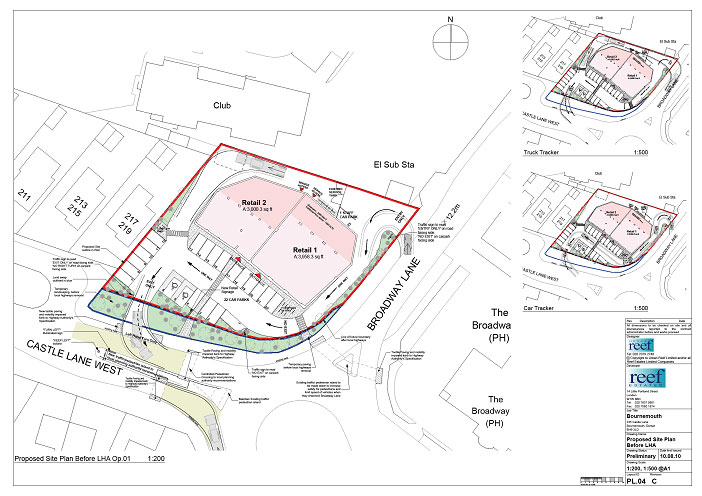 • Troika plans at Riverside Avenue
On 20th April, Troika Developments Ltd made a new planning application to see whether an Environmental Impact Assessment would be required for a 3 storey 60 bed nursing home, a three storey health care and nursing facility and up to 160 dwellings with associated landscaping, vehicular access and car parking, on the site where they had previously won planning permission on appeal for offices with up to 5,000 workers.
To build the office blocks, Troika must first construct a park and ride and lorry park in the green belt and a huge dumbbell junction by the footbridge over the A338, for access.
On 11th May, it was confirmed that an Environmental Impact Assessment Screening to assess the whole development, including access roads etc., for the potential new development is needed, but there are no details about the type of housing or the nursing home and health care facility.
However, the new proposal is for the field which surrounds the National Retired Nurses Home and does not include the park and ride site or junction. Access will be sought along Riverside Avenue, to the (Tesco) junction with Castle Lane East, which would require the widening of Riverside Avenue into the Green Belt.
Apparently, the application has come, not from Troika, but from the Trustees of the Cooper Dean Estate, who actually own the land (Troika have an option on the land for their development).
The land is designated in the Borough Plan as Commercial/Industrial. Therefore any change to residential would need agreement by the Planning Board to a fundamental change in use.
• Local Transport Plan
BOURNEMOUTH, POOLE AND DORSET LOCAL TRANSPORT PLAN (LTP3) APRIL 2011
As shown on the notice board, the new Local Transport Plan has now come into effect and can be downloaded at www.dorsetforyou.com/localtransportplan and the extracts from the recent LTP consultation responses also provided, are very encouraging because of the numbers of consultees putting forward very strong reasons for protecting the local Stour valley green belt and floodplains, including details of regulations which have to be complied with by the Councils, such as the Conservation of Habitats and Species Regulations 2010.
And similarly the Government Localism Bill includes simplifying Local Plans such as the Bournemouth Local Development Framework, and abolishing Regional Strategies.
• Traffic Noise Action Plans
Details received today from Bournemouth Council Transportation Officer Ian Kalra, note:
"The Government will require Highway Authorities to undertake investigation work to consider noise mitigation options and measures for defined area of the Borough. This work is to be carried out using a Noise Action Plan web based support tool provided by the Department of the Environment, Food and Rural Affairs (DEFRA). An outcome supporting document is to be prepared giving recommendations which take regard of technical issues and availability of funding. The Council, as Highway Authority, are at present unable to make progress because DEFRA has still not provided the passwords which are required to log on to the web based tool."
As shown on the notice board, areas where measures are due to be implemented eventually to mitigate Traffic Noise locally, include the Mallard Road and Yeomans Road junction with Castle Lane West as a First Priority, and the flyover at the Cooper Dean Roundabout, the noise from which can be heard as far away as St. Catherine's Hill, Christchurch, is also regarded as an important area for measures such as quiet road surfacing to be implemented.
Item 2 - Neighbourhood Watch Schemes
• P.C. Steve Shires
Neighbourhood Watch (NW) Schemes have a positive impact on the community. They are a simple idea, which have been around for years and are an important feature of Dorset Police. Nationally, they are a most successful crime prevention initiative by getting people together with their neighbours to impact on crime and they are suggested by the police.
Neighbourhood Watch Scheme co-ordinators belong to the communities. It needs some involvement, but does not mean a lot of work - you contact neighbours and get to know the people around you. Schemes work on estates, suburbs, roads, seaside resorts, etc.
Needs:-
A co-ordinator. Not a lot of work, but a point of contact between the scheme and the Police, feeding information both ways.
Members - looking out for neighbours and contacting the Police if anything suspicious is seen. Residents hold special knowledge of the areas and would recognise strange or suspicious people in a neighbour's garden. The Police need this part from members.
Support:-
Community messaging - Ringmaster. Sign up via phone, email, text, fax and you can even say what time of day you wish to receive messages.
Police then can inform residents of any spate of burglaries, local events, Safer Neighbourhood Team (SNT) meetings *(Cops-on-the-Corner) etc.
Forms to sign up are available from SNTs.
Aims:-
Reduce local opportunities for crime
Encourage a community spirit
Inform Police of any suspicious activities
Advantages:-
Prevents burglary/vandalism/car crime, etc.
Suspicious incidents are reported more quickly
Members know their SNTs
Crime prevention advice is distributed quickly and effectively
Some home insurance providers give a discount for members of Neighbourhood Watch Schemes
P.C. Shires role is focussing on NW over two years, by which time, almost every neighbourhood can be part of a Scheme.
He has helped to support the Strouden Park Neighbourhood Watch Association, which is a new group started at the beginning of the year, consisting of existing co-ordinators who want to do more to make the area safe. *(A display was provided at the Forum Meeting) The aims and objectives are:-
To make people feel safer in the area
To improve community spirit
To be part of events, e.g. School fetes
To create community events and build community spirit
The first newsletter with crime prevention information - particularly for the summer months
Internet:-
Go to http://www.dorset.police.uk/Default.aspx?page=1230 *(Bournemouth North Section)
Each SNT has its own page, with names, contact numbers, events, cops-on-the-corner surgeries, etc.
Vote for the issues which most concern your area
Police have local priorities for each SNT - it is a good way to let the Police know our priorities.
Question:
Resident of Eventide Homes. At night, cars go screeching around the Castlepoint car park on the top level.
Answer:
There is 24 hour security, who try and deal with the issue. The car park is covered by general *(Police) patrols.
Also: At 7 p.m. one November evening, a group of youths, using foul language, blocked the exit of the escalator beneath Asda.
Answer:
The shopping centre will always be a focal point for young people from far and wide. The Police work closely with Security at Castlepoint. Questioner asked to speak to Danny Lisk re: forming a Neighbourhood Watch at the Homes.
Question:
How is it possible for problems to happen at Castlepoint if there is 24 hour security?
Answer:
It is a very big shopping area and the Police are usually very quick at responding. Security will not remove groups of young people if they are not causing any problem. Young groups can be perceived as worrying, but there is often not a lot for young people to do in the area and they are not always there to cause problems. Security will call the Police if necessary. P.C. Shires will highlight the problem to them.
Question:
The kids may be having fun, but it is dangerous when they are riding bikes down the walkways.
Answer:
P.C. Shires will point this out to Security. The travellators tend to be focal points.
Question:
Is there a direct dial phone number to security for residents to use?
Answer:
Secretary will find out and post this on the website. If Members are on site and see any anti-social behaviour, Security can be found on the right hand side of the lower level, beside the Management Suite, where there is an intercom through to them. There are also contact points around the centre. It is important that residents do report it.
Note from Secretary: Telephone number is (01202) 510050 select option '2'. Security also advises there are 'Information' points dotted around the centre with intercom, Security patrols walk around the area and also that any Trolley guys or Cleaners are able to contact them.
Question:
Rogue Trader Initiative.
Answer:
Bournemouth and Poole have some "no cold calling zones," which are run by Trading Standards, but supported by the Police. There are two in Strouden Park. They have dropped off a little, but there is a cost implication to setting them up (time consuming). More will be set up, but finances are restricted. They have tried to pick the most vulnerable area prone to rogue traders.
Question:
'Subway' *(shop opposite Castlepoint Library) puts up large advertising boards against the pedestrian crossing opposite Eventide Homes. It is dangerous and people cannot see. They have been approached.
Answer:
P.C. Shires is aware of the issue and will deal with it. Forum Member was asked to give Steve his name and he will let him know.
Comment: Jim Atkins - Sway Garden Families. Jim totally recommends Neighbourhood Watch Schemes for anyone. It has made a massive difference to where he lives, with issues like graffiti, anti-social behaviour, parking on double yellow lines and speeding, all covered in one year. It has brought people together and increased the sense of well-being. This was all with the help of the local Police and the Council. Thank you.
Item 3 - Introduction to the Elected Councillors
• P.C. Steve Shires
Chairman noted that after each local election, elected Councillors are invited to introduce themselves and give a Forum brief address on what their priorities will be over the next four years and where they see themselves going.
Cllr. Ron Whittaker
The last 4 weeks have been difficult, but the main part is to concentrate on the important issues, e.g. the Mill, erosion of the river banks, United Reform Church and Manse, etc.
He does support the Town Centre Vision, but much is at the cost of our own areas, e.g. the Hicks Farm proposals are now on the back burner. One particular building is in a poor state, but it cannot be developed as it is in the flood plain. The Regional Spatial Strategy targets *(threatening the Green Belt) have been taken out as the figures were not approved. However, we should watch for applications in our area as although gardens are now classified as Green Belt, not brown field, one or two inspectors have overturned refusal decisions.
Ron has represented Throop and Muscliff for 40 years and he loves the area, particularly the tranquil river side.
Cllr. Anne Rey
Anne stated she was privileged to get in again, one of only two Independents at Muscliff.
As a person of morals and principles, her main aims for the next 4 years are to continue to speak her mind for the people of Throop and Muscliff and foster a partnership with Police, PCSOs and community leaders. She helps organise the Muscliff Funday and works towards bringing the community together, to encourage our own community to take responsibility for itself.
Anne pledges to fight for no cuts to the vulnerable and is fighting for a person to be looked after. She will never vote for a Day Centre or Old persons Home to be shut until all options have been looked at.
Cllr Rey would like to see and ice rink for the Town, but her main purpose will always be to look after Residents. She is an Independent councillor and will remain so.
Cllr. John Adams
Cllr Adams stated he is the "new boy on the block," but is actually back on the Council after 27 years. He is pleased to be part of a team to look after the *(Strouden) Ward.
He is a Magistrate and is interested in security and neighbourhood to ensure that houses are safe. As an ex-chairman of Environmental Services with the Council, he is interested in the environment and with a lot of people on their side, pledges to look after people, whatever Party they support.
He attended Bournemouth School for Boys, loves Bournemouth and is involved with theatre. The first week in Council involved very intensive training and he considers one of the main Ward issues to be the parking problem. He urges people to keep in touch.
Cllr. Michael Weinhonig
His father is Polish, his Mother German and he was born in Wales, before coming to Bournemouth and attending Bournemouth School for Boys. He then went into the motor industry, before studying Law at Bournemouth University, which was a good grounding. Where he has helped *(over the last 4 years) if he hasn't succeeded, he has tried - some things you cannot do. As part of a team, he will give 100 per dent.
He outlined *(this Administration's) plans to stimulate the economy, encourage community engagement and stated Bournemouth is a shining star on recycling, which saves on landfill. Efficiency is demanding more with less. They have done a good job, but difficult years are coming up if we are to get through with a high level of service.
Locally, Strouden Park needs affordable housing and people want houses not flats. Bradpole Road which has houses and a community centre is being delivered.
People engaging and even clearing up other people's mess will result in a safer, cleaner and greener Strouden Park.
Cllr Derek Borthwick
Cllr Borthwick hopes to have an influence to keep Council Tax to a minimum and ensure it is spent wisely. He will fight to keep services to the vulnerable and children and will fight against the closing of the Council's Appeals Board, whilst safeguarding funding for Throop and Muscliff for priorities. He will remain watchful that Mouchel produce what they agreed to.
He will take on board Residents' problems and concerns and give them public support.
In line with the non-political stance of Forum, he had a letter available, which he would hand out after the meeting, explaining his recent decision *(to change from being an Independent to joining the Conservative Party on the Council).
Cllr. Anne Rey rose to state that she had no intention of getting into a slanging match, but she challenged Mr Borthwick to a by-election in Throop and Muscliff.
Cllr John Trickett
Had sent his apologies several weeks prior to the meeting. It was noted that he is a very active Ward Councillor.
Item 4 - Residents Question Time
The Chairman acknowledged Members may feel strongly in this Forum, but called for restraint, asking all Members to use the microphone and not shout out. He stressed our non-political stance and stated all questions must be asked in an appropriate manner without political or abusive remarks and order maintained.
Comment: Member took issue with Cllr. Adams who stated achievements in Council could only be made as part of a team. Look at Councillors Anne Rey and Ron Whittaker, who have been tremendously successful.
Response: Cllr. Adams responded it is better and easier if part of a team. If you have a majority it is easier to get a result. He and Ron had worked together in Council in the past.
Comment: But Tories are subject to the Whip.
Response: Cllr Adams stated he is a free talker, but selective. Independents can say anything!
Comment: If the Conservatives are a team, they should ask Cllr Borthwick to resign and stand for re-election.
Question 1:
Crossing into Charminster Road from Chigwell Road. When children going to the School cross at the lights, it blocks traffic coming from the side roads and the traffic does not move. Similarly, when exiting from Craigmoor Avenue and the Castlepoint traffic lights stop. Can anything be done for these people to come out?
Answer:
Cllr Weinhonig stated he is in the Ward every day and all roads have some difficulty.
Chairman: Forum will pass this on to Michelle Fillingham (Council Traffic Officer), who has been tremendously helpful in the past. Forum Member asked to speak to Secretary after the meeting.
Comment: In Guernsey, all traffic alternates at junctions and it works well. It keeps traffic moving and is fair.
Comment: When talking about Neighbourhood Watch Schemes, P.C. Shires talked about the importance of "community spirit in the area." Forum Member stated that the Councillor affected by greed, sleaze and spin should do the right thing.
Question 2:
For Cllr Michael Weinhonig. Forum Member asked Cllr. Weinhonig what happened when he paid a visit to the Post Office in Bradpole Road?
Answer:
Cllr Weinhonig stated this was a political matter and he would share it with the Forum Member after the meeting.
Forum Member: did not think it political.
Cllr Weinhonig: offered to speak to her afterwards.
Forum Member: did not accept his answer and felt he was being evasive.
Cllr Weinhonig: stated it happened during the election campaign and is being investigated and dealt with now.
Forum Member: Accepted the matter as it is being investigated.
Question 3:
There is a nice green area on Chesildene Drive. Is there any chance of getting some picnic benches there?
Answer:
Cllr. Anne Rey stated that a single picnic bench costs about £2,500. Councillors have not previously been asked for this, but she will look at it and try to get at least one. Cllr. Rey knows where she means.
Question 4:
Throop Reform Church and Manse. Is there anything else can be done? Vandalism could turn into arson. Also, in Chesildene Drive, a brick wall has been smashed down - is there any progress in rebuilding it?
Answer:
Cllr. Ron Whittaker. A £105 contribution has been made to removing the bricks, but the driver involved in the accident was not insured and the Council has no money.
Regarding the Church and Manse, Andy Williams (Council Conservation and Design Officer, Planning and Transport) has emailed Stewart MacLean of the Wessex Trust, but he does not respond. Ron continues pressing Officers all the time. Ken Mantock - Chair of the Bournemouth Civic Society is helping, but hands are tied unless a compulsory purchase order is made. The asking price for the Manse would be £350-£400k.
Question 5:
Forum Member has a son who has started school at Queens Park Infants, but the Junior School is now in special measures, so infants will move up into a school that has failed. The school was ok in 2008, but is now in special measures, so has it been let to deteriorate?
Answer:
Cllr Weinhonig. Agreed - it should not have happened.
Forum Member: We need reassurance the Borough will be pro-active. 120 new children this year will go through an outstanding primary school, into a school going into special measures.
Cllr Weinhonig: Asked the Forum Member to give her name after the meeting and he will follow it up.
Question 6:
(a) Re: Picnic tables. Suggests as a community, people can have memorial benches, although nothing is immune to vandalism. A picnic table in Granby Road was removed due to anti-social behaviour.
(b) Tarrant Road - not wide and people have 2 or 3 cars, parking on the pavement, bends, communal car parks, etc. It is unsafe and you cannot see to come out. Who deals with this?
(c) Forum Member proposed a vote of "No Confidence" in Cllr. Borthwick.
Answer:
P.C. Shires. There is no clear answer regarding parking as it falls between the Police and the Council. The Safer Neighbourhood Teams can be contacted through their direct number (link on Forum website) and if they cannot sort it out, they will pass it on to the relevant people.
Cllr. Anne Rey. Parking is a problem, they have had to put double yellow lines in some places and people have to park on grass, etc. Tarmac and dropped kerbs cost about £4k. Cllr. Rey has to live with it is well. If it is a neighbour, try knocking on their door, but if they don't move, contact the Police or PCSOs. Double yellow lines just move the problem to another road.
P.C. Shires: Contact details for the Safer Neighbourhood Teams are on the Dorset Police website and have a link from the Forum website. They will take reports and pass on complaints.
Cllr. Ron Whittaker: Regarding comments made about the relevance of working as a team. In all his years as a Councillor, he has found that if you present a case strongly and go about it well, it will get cross party support. Conservatives and Independents can and do work together and all Ward issues should be non-political. It is all about working together. Good working Councillors is what is important. He had in the past, worked with the two good councillors who lost their seats in Kinson on many issues, including the Green Belt, etc.
Question 7:
Forum Member first stated he was sorry for Residents who had voted in Throop and Muscliff and did not get their wishes.
He then asked - the new Co-op on the corner of Broadway Lane, will it be licensed for alcohol?
Answer:
Cllr Anne Rey is on Licencing - it has not yet come to Licencing for alcohol.
Question 8:
Question to P.C. Shires. Is there any law regarding children playing ball games on a public road?
Answer:
It depends on the circumstances and each situation may involve a different part of law. There is nothing to say children cannot play on roads, but if you see it – report it!
Question:
Does the Council put up signs saying "No Ball Games?"
Answer:
Yes, there are signs, but no resources to enforce it.
Statement: Forum Member takes Cllr Weinhonig to task. It is difficult to avoid politics - the scene is Tory, but the Council does not behave like a Tory Council.
Forum Member has a 27 year old disabled son with a mental age of a 2 year old, who is facing a 70% cut to his funding. She gave praise to Cllr Ron Whittaker, Cllr Anne Rey and Cllr Borthwick, who have all been by her side. Most Councils are making cuts to staff, but she can phone 14 different people to discuss the same thing. This Council has made very little reduction in staff and these should come before cuts to her son. She again praised the efforts of Ron, Anne and Derek and stated she is very happy to have Derek on her side.
Response: Cllr Weinhonig stated he is sorry she is in this position. Nationally, Health is a priority and he will feed the problem back to Tobias Ellwood M.P. They have been forced to make efficiencies, but not good enough in general. The project is to find out how efficient the Council can be. He thinks her situation is unique and asked her to talk to him after the meeting and he will investigate.
Cllr Borthwick confirmed the young man requires 24 hour care by special people and he needs to have confidence in his carers. The Council has tried to cut his care down to 12 hours and to cut the rate from £9.75 per hour to £3.50 per hour, saying some-one could sleep over, but he could deteriorate at any time. He will fight continuously. The Council cut the funding by 70%, then 50%, then 30% and are now suggesting it go back to 50%. How can they think it can be done for £3.50 per hour?
Comment: 3 years ago, the Conservative Party made a pledge to support the needy. In the last few days, Birmingham Council has been taken to Court and if the complaint is supported, Bournemouth Council will also be liable. The Council is not standing by their obligations; they are just ignoring the needs.
Comment: Forum Member can remember when councillors were not really political and he endorses Cllr Ron Whittaker's comments. With regard to Cllr Borthwick, at the next election he suggests everyone listen at the hustings. The Forum Member chose an Independent and would have voted differently - he feels he had his vote stolen.
Comment: Forum Member expressed sympathy for the problems being experienced by the Member and her disabled son. Despite his help in this case, he felt that what Mr Borthwick did (on election) was despicable and he should resign.
Comment: Forum Member admires Derek Borthwick for helping the young man, but cannot understand him then joining the Group that is cutting the benefits. We owe Councillors a vote of thanks - they work hard. We should take responsibility for our own actions - litter and discipline of children are problems. Bring discipline back in.
Statement: Mother of disabled young man. It is not the Councillors cutting the Benefits, it is Officers suggesting the level of cuts. You need Councillors to help support your case. All 14 Officers are keeping their jobs. Most Tory Councils are cutting back, but all officers are in place in Bournemouth.
Response: This is Administration. Officers can only carry out policy decisions made by Councillors. Hopefully, Derek Borthwick will sort it within his Group.
Comment: The Planning Board tries to be fair, but people do not realise it is Officers who take decisions - it does not always come to the Board.
Response: The Officers still have to work to Policies and Guidelines. Any application can be called in by 6 written objections or 10 on a petition or if called in by Councillors, but there must be Planning Policy reasons. It an application goes to appeal, the Council can potentially face costs. If Members see any planning they don't like, tell the Councillors. Co-operation is vital.
Chairman: We find we get a good response from Officers.
Comment: Forum Member recommends a book called "Castle of Lies" "Why Britain must get out of Europe", which looks at National and Local policies, mostly run by officials with an agent. The book tells about sleaze and spin.
Comment: Forum Member knows of two ladies with "vulnerable" children. A headline by Cllr Peter Charon - Leader of the Council, stated there will be "no cuts to the vulnerable." This is a complete lie.
Statement: Comment on Europe. The Noise Action Plans mentioned in the Updates, for the reduction and mitigation of noise, are not a U.K. policy, but come from Europe.
Comment: Forum Member and Muscliff Resident. Forum Member went along to the polls and voted for Cllr Borthwick. She feels let down and disillusioned. She does not want him to serve her for the next 4 years. This has badly affected herself and her neighbours. She is not talking party politics - she is talking about his actions. She spoke to him outside the Polling Station and Derek Borthwick said one thing one day and did another thing the next day. It is disgraceful and she asks him to resign.
Comment: In view of the high feelings, thanks were expressed to the Chairman and Forum for the way in which they conducted the meeting. The Chairman was congratulated for laying down the ground rules.
Question 9:
On Pollution. We are constantly being told about reduction of pollution, yet we see the narrowing of roads and do everything to slow traffic down and cause more pollution.
Answer:
It is difficult to balance the needs of cyclists, pedestrians and drivers. Cllr Ron Whittaker noted the costs of traffic calming measures are huge and the ones in Broadway Lane fell apart, with motorbikes still shooting through the middle, but all are guilty.
Question 10:
If your car is damaged by humps, can you sue for springs?
Answer:
There are too many cars on the roads and they go too fast. People who live in roads want cars to slow down, but drivers want to go quicker. There are now 2 or 3 cars per house.
Chairman: If Members perceive speeding, please inform the Police. Cllr Anne Rey asked if the PCSOs will do another check?
Comment: Forum Member had a "lowered" car and needed to be made higher. She stated the London Ambulance Service say speed bumps are dangerous.
Response: Cllr Ron Whittaker, who used to be an ambulance driver, stated that now Paramedics stabilise patients at the house or in the ambulance before they move - they never carry out procedures on the move.
Comment:
(a) Speed is a problem when inappropriate for the occasion, i.e. school times.
(b) In the 1950s, a new town would be planned with 1 in 10 having cars, 10 to 15 years later, it was 1 in 3.
Comment: Member does not agree with what Cllr Borthwick did, but he wasn't the first and won't be the last. If he resigns, it would be a loss.
Comment: Forum Member asked (a) that the council please dig up the palm trees and (b) that people join her at the next Full Council meeting on 8th June, outside the Town Hall and make a silent protest over Cllr Borthwick's actions.
Statement: Jim Atkins from Sway Gardens Family exhorted people to start Neighbourhood Watch Schemes and stated how successful, worthwhile and rewarding his scheme is.
Item 5 - Any Other Business
Allotments:
Leaflets were available regarding the BCHA New Leaf Allotment scheme in Muscliffe Lane, which is looking for "individuals, groups or families interested in horticulture, allotments or just looking to try something a little different" and would like an opportunity to help or engage.
The New Leaf Allotment is a 1.2 acre site in Throop, focussed on engaging local charities, community groups and schools in horticultural activities. Supported by a very enthusiastic group of volunteers and a management team at BCHAs 744, the allotment aims to support the local community with produce as well as offering opportunities for green-fingered fun!
New Leaf consists of an array of vegetable plots providing everything for a family homed, including potatoes, carrots and onions; broccoli, cauliflower and cabbage; tomatoes, lettuce and cucumber and much, much more!
The site has over 30 apple trees that provide a natural setting for groups and individuals to relax after working hard on the allotment plot or in our polytunnel.
They have groups of local children engaging in structured educational sessions, broadening their opportunities for the wider community to engage. The allotment co-ordinator will be running adult learning courses throughout the summer.
If you are interested in BCHAs New Leaf Allotment and opportunities to engage, please contact Christopher Small (Allotment and Volunteering Manager) on 01202 802044 or via email at chrissmall@bcha.org.uk
Item 6 - Date of Next Forum Meeting - Thursday, 20th October 2011