24th October 2012 - updated 14th November 2012
Mayor's Volunteer and Volunteer Group of the Year Awards 2012 - Runner up Diana Brocklehurst
14th November 2012
Press Release
From: Alison Morrison, sedcat Deputy Community Transport Manager
Local Volunteer Diana Brocklehurst makes it through to the Final Women's Royal Voluntary Service Diamond Champions Award Ceremony
It's good to hear that appreciation for all the hard work many local volunteers do in the community is sometimes recognised. Diana Brocklehurst from Holdenhurst Village was amongst 60 Diamond Champions who made it through to the Final South and South West WRVS Award Ceremony in Bristol on 25th October 2012. Each nominee received a Diamond Champions celebratory pin badge and a certificate signed by Their Royal Highnesses the Prince of Wales and the Duchess of Cornwall.
Women's Royal Voluntary Service have celebrated Her Majesty The Queen's Diamond Jubilee by searching for the UK's Diamond Champions - older people who give their time to improve the lives of those around them. It is these people who give so much to others and yet never ask for anything in return and who, by their acts of kindness and selfless giving, make a real difference to those less fortunate.
Diana was nominated not only for her dedication as a volunteer community driver for sedcat (South East Dorset Community Accessible Transport), but also for her time given helping elderly members of the BAT Bus with their shopping needs and her devotion in working tirelessly for the local charity Talking Newspapers. In fact, most of Diana's week is spent as a Volunteer helping others in the local Bournemouth community.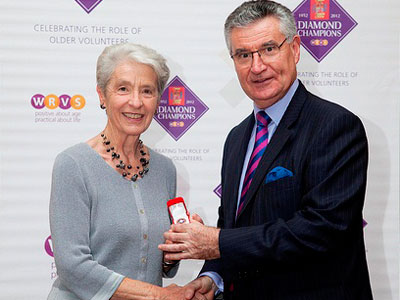 Photo: Diana Brocklehurst receives her award from Trevor Jones WRVS Trustee
24th October 2012
We were delighted to hear that Diana (one of our Community Cars Drivers) was awarded the 'Runner Up' Award from the Mayor at the recent award's ceremony. For over 4 years Diana has been a volunteer community car driver for sedcat and a volunteer wheelchair-pusher for the BAT Bus collecting Marjorie, one of the BAT Bus ladies, and taking her shopping in ASDA. Not only does she volunteer for sedcat, she also helps at the Talking Newspapers editing, reading and general secretarial duties. Diana gives up half of her week volunteering and over 200 people benefit; she more than deserves her award.