28th April 2010 - updated 7th July 2010 - updated 12th July 2010
Throop Mill - Handrail Adjacent to Hatches
Update 12th July 2010
The safety mesh is now in place on the south side of the bridge over the sluice gates. This will make crossing the bridge so much safer for parents with children and for dogs.
Forum is very grateful to Cllr Ron Whittaker and Gary Josey for achieving this so efficiently.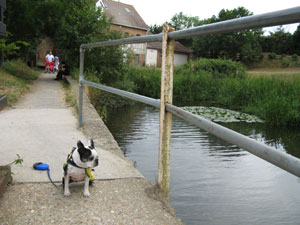 Before Photo - No safety on south side of the bridge.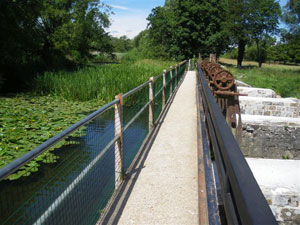 After Photo - Safety mesh is now in place on the bridge.

Update 7th July 2010
Responsibility of ownership in this matter has been bounced back and forth between Bournemouth Borough Council, Christchurch Borough Council, Dorset County Council, the Environment Agency and Heygates.
However, with the full backing of Forum, Cllr Ron Whittaker has doggedly pursued all possible lines and after endless e-mails and phone calls, has had a breakthrough in this vital issue, receiving the following e-mail from Gary Josey, Director of Housing Landlord and Parks this morning: -
5th July 2010
"Dear Councillor Ron,
We can't have any more protracted debate; as you say, someone needs to take ownership. I've agreed with Councillor Anne Filer this morning that we will (on this one example only, without prejudice).
I've spoken to our fencing contractor Roy Stephens from Ferndown Fencing Supplies and as a goodwill gesture they will do it at cost.
Hopefully there will be mesh on the lower section between the rail and the base by the end of this week."
Forum would like once again, to thank Cllr Ron for all of his hard work and Gary Josey, who Ron says "is a can do, unlike the other officers e-mailed in."

For some time, Forum Members have expressed concern over the upstream handrail beside the sluice gates (hatches) as it is open at the bottom.
Several dogs are known to have gone through into the river and are difficult to retrieve. More importantly, it is feared a child could fall in and Forum Members would like to see mesh installed on the lower portion of the rail.
Councillor Ron Whittaker has established that this rail is the property of Dorset County Council and e-mailed them on 9th April 2010.
This item will be updated as soon as information is available.